Animated Film Explores Environmental Crisis Through Indigenous Storytelling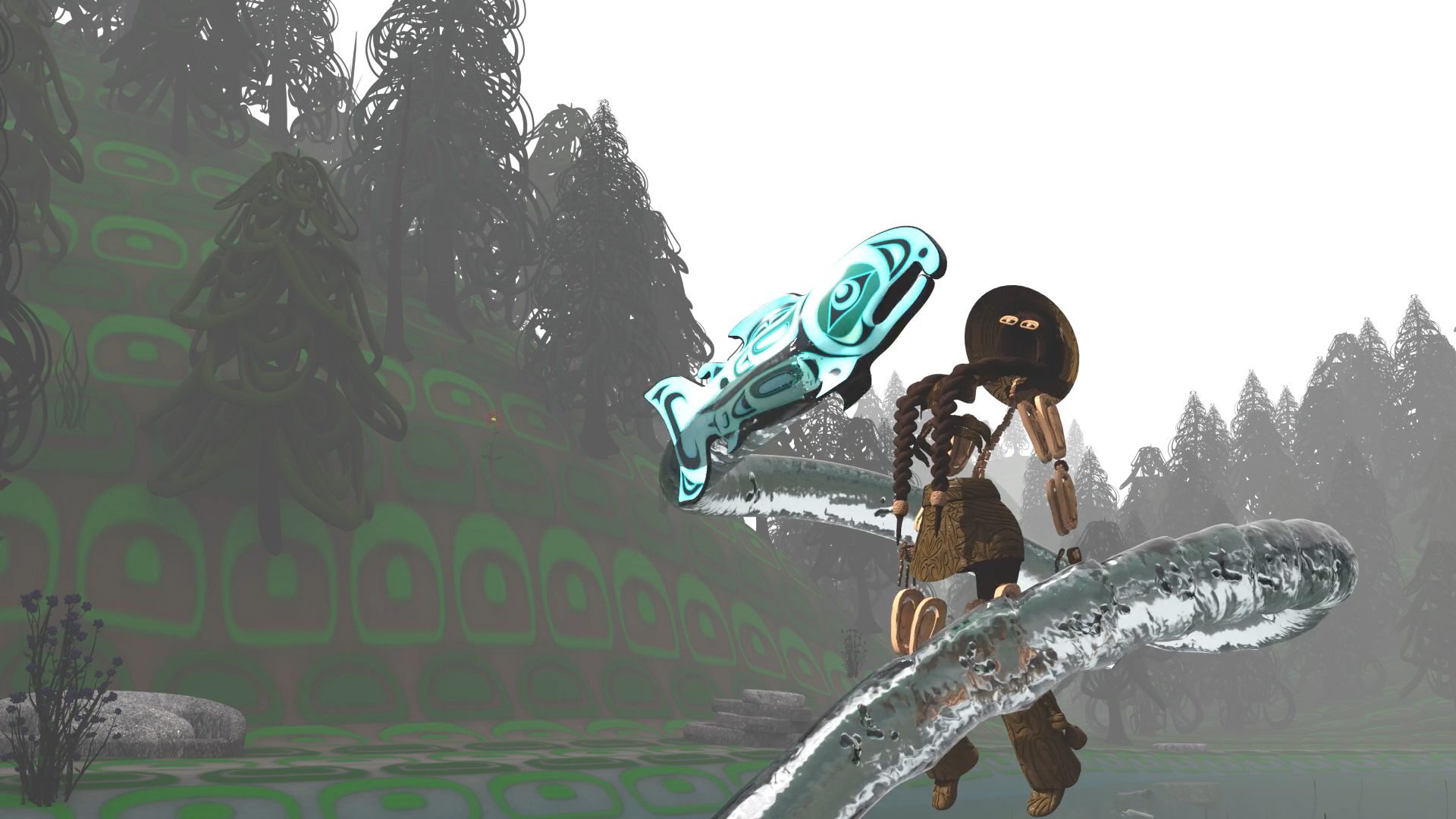 Posted on November 09, 2022 | Updated November 09, 2022, 1:58pm
Titled Láwa7, the video is currently playing on the outdoor Urban Screen at Emily Carr University (ECU), curated and presented by the Libby Leshgold Gallery.
A new animated video by artist Frankie McDonald invites audiences to explore the relationship between colonialism and the urgent environmental issues of our time through the story of a young girl and a magical salmon.
Titled Láwa7, the video is currently playing on the outdoor Urban Screen at Emily Carr University (ECU) as part of the City of Vancouver's Public Art Program, curated and presented by the Libby Leshgold Gallery.
Láwa7 uses computer animation to bring traditional Northwest Coast formline artwork into a 3D environment. The fantastical characters, compelling narrative and gorgeous visuals provide an accessible way to engage young people and families in conversations about conservation and Indigenous storytelling.
Originally created for a senior course in one of ECU's world-class animation programs, Frankie began writing Láwa7 in 2019, a year which saw salmon populations in BC hit historic lows. For Frankie, the need to tell a story to advocate for salmon conservation was clear.
"I felt that I needed to spread the message that we need to protect the wild salmon if we want to keep them from becoming extinct," she says. "I want to shine a light on the struggles the wild salmon go through. It's not something people think about every day, and I want to bring awareness to what pollution, fish farms and pipelines do to our salmon population."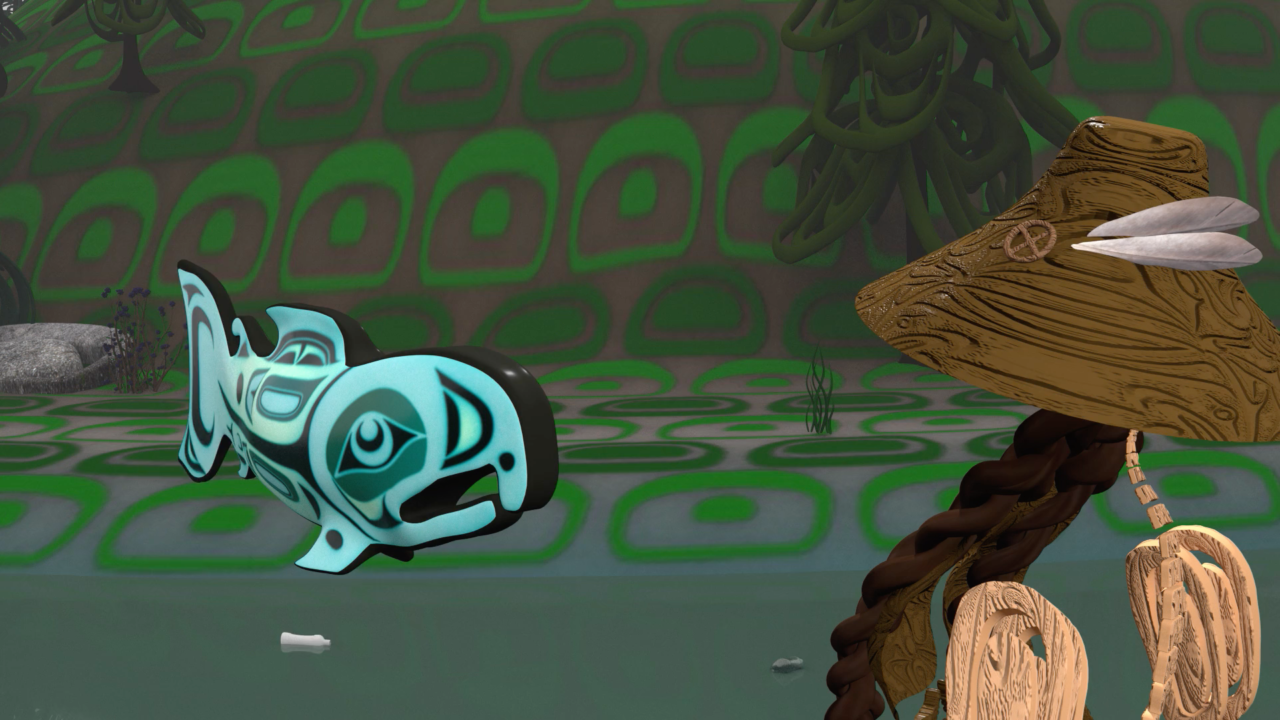 Láwa7 tells the tale of a young woman named Nahani who goes to the river to fish, but is unable to catch anything except garbage. A magical salmon named Láwa7 transforms the young woman into a salmon and takes her on a journey through the river. As she travels the waterway with Láwa7, Nahani finds herself galvanized by the environmental damage she witnesses.
The story calls attention to the harmful effects industry can have on the environment. It also points to the power of individuals and communities to make a difference. The character Nahani is loosely based on Frankie's grandmother – educator, activist and Indigenous language revitalization researcher Ethel "Stelomethet" Gardner. Ethel, a Stó:lō member of the Skwah First Nation and longtime part of the Wild Salmon Defenders Alliance, passed away in 2020.
"She was so inspiring to me as an Indigenous woman," Frankie says. "She never let anything hold her back from accomplishing everything that she did. She was well-educated and fearless and that's what really inspires me about her."
An upcoming artist talk will feature Frankie in conversation with Connie Watts, an artist, designer and Associate Director of Aboriginal Programs at ECU, and narrator of the film. The talk takes place Nov. 17 from 3:30 - 5:00 p.m. in the Aboriginal Gathering Place at Emily Carr University, and is free and open to the public.
Láwa7 will show on ECU's outdoor Urban Screen from 8 a.m. to 9 p.m. daily through Feb. 28, 2023. A QR code on the wall beneath the screen can be used to access a sound-activated version of the film. Takeaway cards with the QR code are also available at the Libby Leshgold Gallery.
About the Libby Leshgold Gallery