Nicole Johnston Strengthens her Cultural Roots with the AGP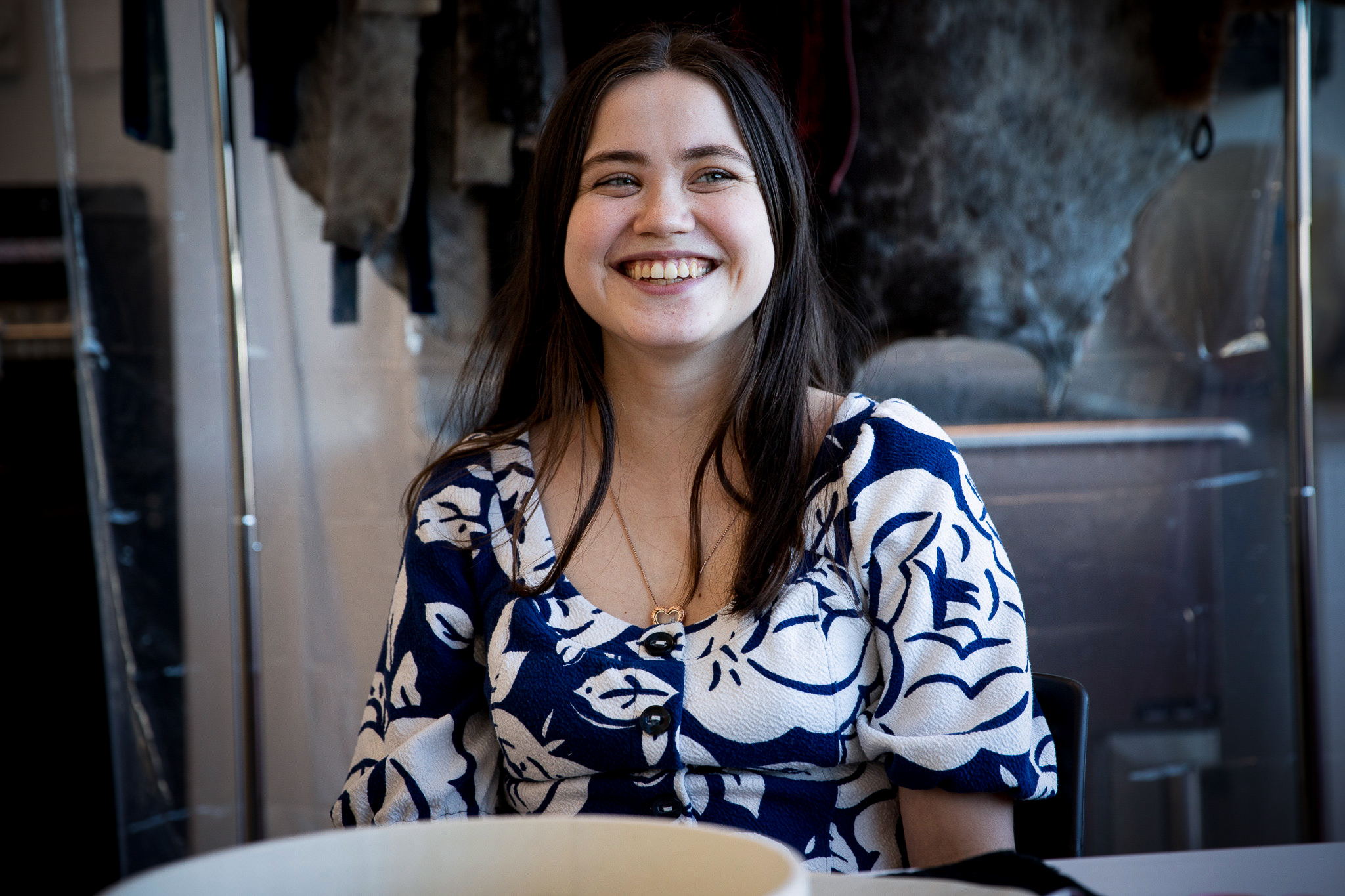 Posted on February 15, 2022 | Updated February 28, 2022, 9:01am
The artist, ECU student and Aboriginal Programs facilitator reflects on her commitment to learning, teaching, history, and to the contemporary work of Aboriginal material practice.
When Nicole Johnston walked into the Aboriginal Gathering Place (AGP) on her very first day as a student at Emily Carr University, she wasn't even sure what she was looking for or who she would meet.
Nicole, who is from the Squamish Nation, says she'd had little firsthand experience with Aboriginal material practice or culturally specific education.
"We only learned about Indigenous history twice during my whole K to 12 education, and I felt that. I felt like, 'I need that in my schooling experience.'" she tells me. "Even in my nation, we had a lot offered to us, but I still felt like there could always be more. Growing up, I didn't feel like I knew my culture as much as people around expected me to, so I was eager to keep learning here."
Almost without blinking, Nicole threw herself headlong into that learning process, enrolling in the EAGLE program, signing up for "as many Indigenous courses as I could," and quickly moving into the role of workshop leader for the AGP's Urban Access program.
"I was teaching the drum-making, rattle-making, tufting," she says. "I learned all of that here at the AGP, through taking workshops and the Aboriginal Material Practice course, because I never knew how to do any of that before coming here."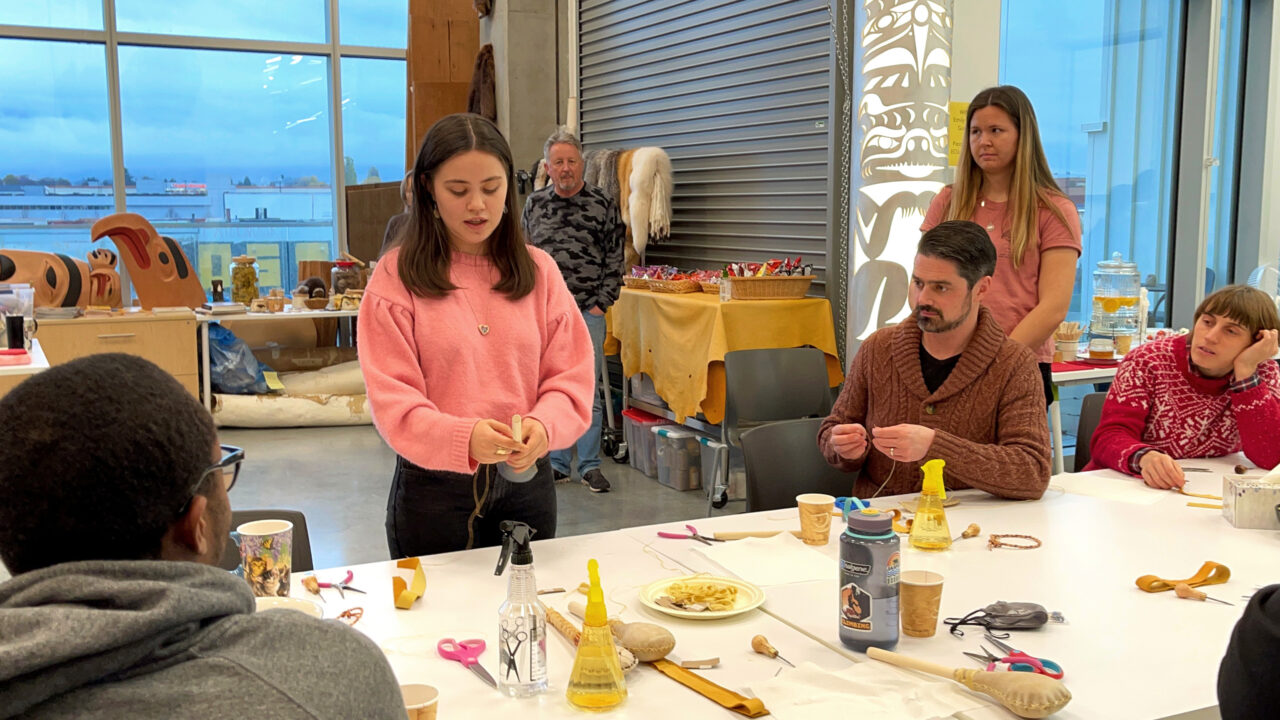 Now in her fourth year at ECU majoring in visual arts, Nicole finds herself deeply connected to the AGP and its programming, both personally and in her official role as the AGP's Aboriginal Programs facilitator — a role in which Nicole is flourishing, according to Connie Watts, associate director, Aboriginal Programs at ECU.
"Everyone gives positive feedback with her teaching. Not only is she so aware of what her students are doing — she's always problem solving in a guiding way before they even know they need it — a cultural knowing that she is connected to deeply," Connie says of Nicole. "She's gentle with people, with learning, always offering advice or giving tips. She's really demonstrative. She's just that kind of human being who makes you feel like you can do anything."
Nicole's commitment, Connie notes, has also been key to her success. On top of teaching workshops for multiple AGP initiatives, Nicole is a visual researcher, a snowboard coach and, of course, a full-time student.
"She's got so much energy," Connie says. "She's always researching online, always adding to her repertoire of making. Always developing her skills."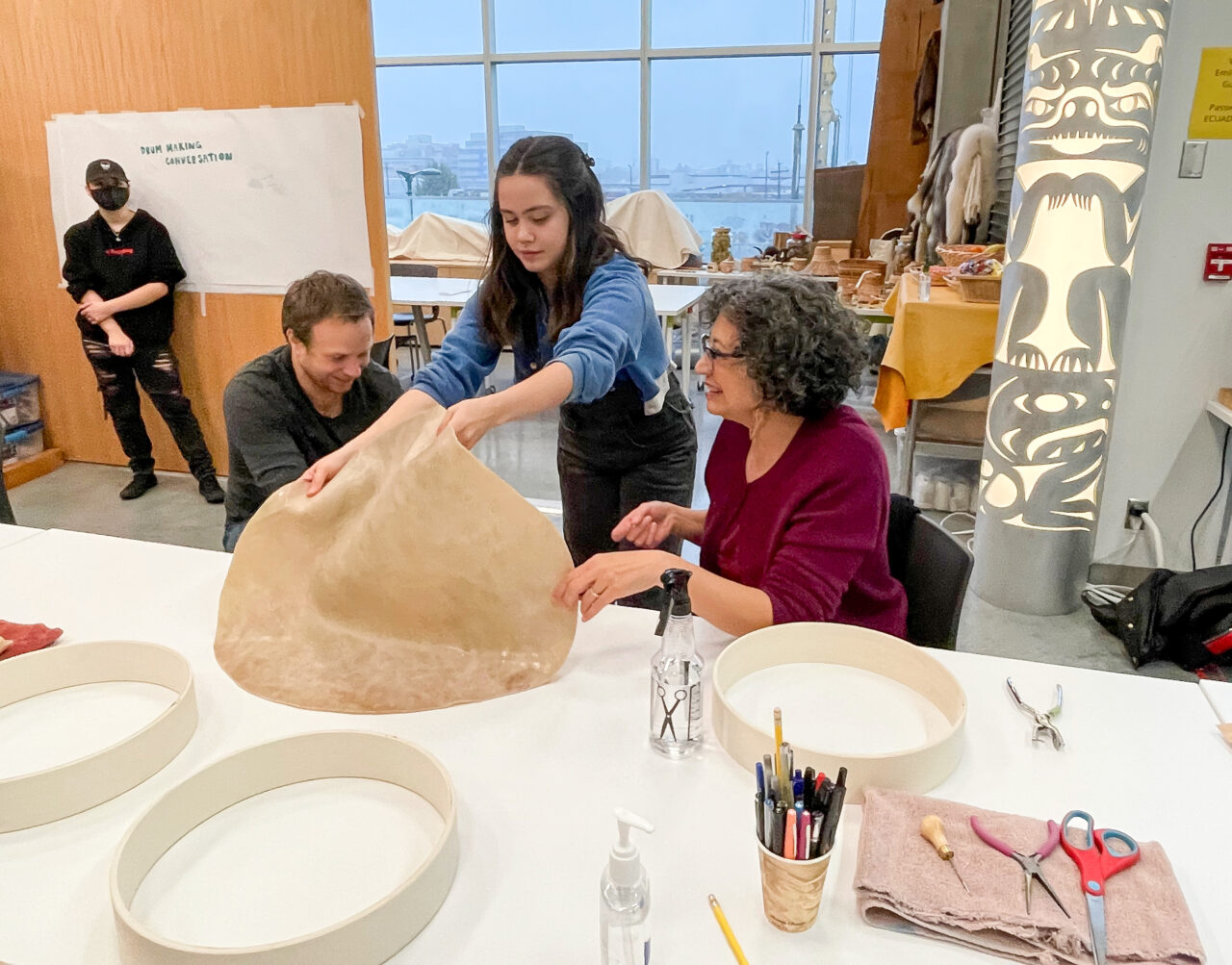 Meanwhile, Nicole says she has become fast friends with the the other women at the AGP — Connie as well as Brenda Crabtree, director, Aboriginal Programs; Sydney Pickering, Aboriginal Program coordinator; and Zoë Laycock, peer tutor and researcher with the AGP.
"Working with them is a dream," Nicole says her colleagues, all of whom are accomplished artists as well as educators. "They're so nice, but they really push me. I mean, I love material practice, but if it wasn't my job, I don't know if I would be exploring as much as I have here."
That exploration has also had its influence on Nicole's art practice. Her research into Squamish culture, for instance, has given her a fresh perspective on some familiar sights.
"I've been learning more about legends and lots of them focus around someone turning into something — a mountain, a rock — and I thought, 'Wow, these places are where I've gone camping or I've gone hiking,'" she tells me. "I never knew those stories were about these areas, or that my ancestors had been there."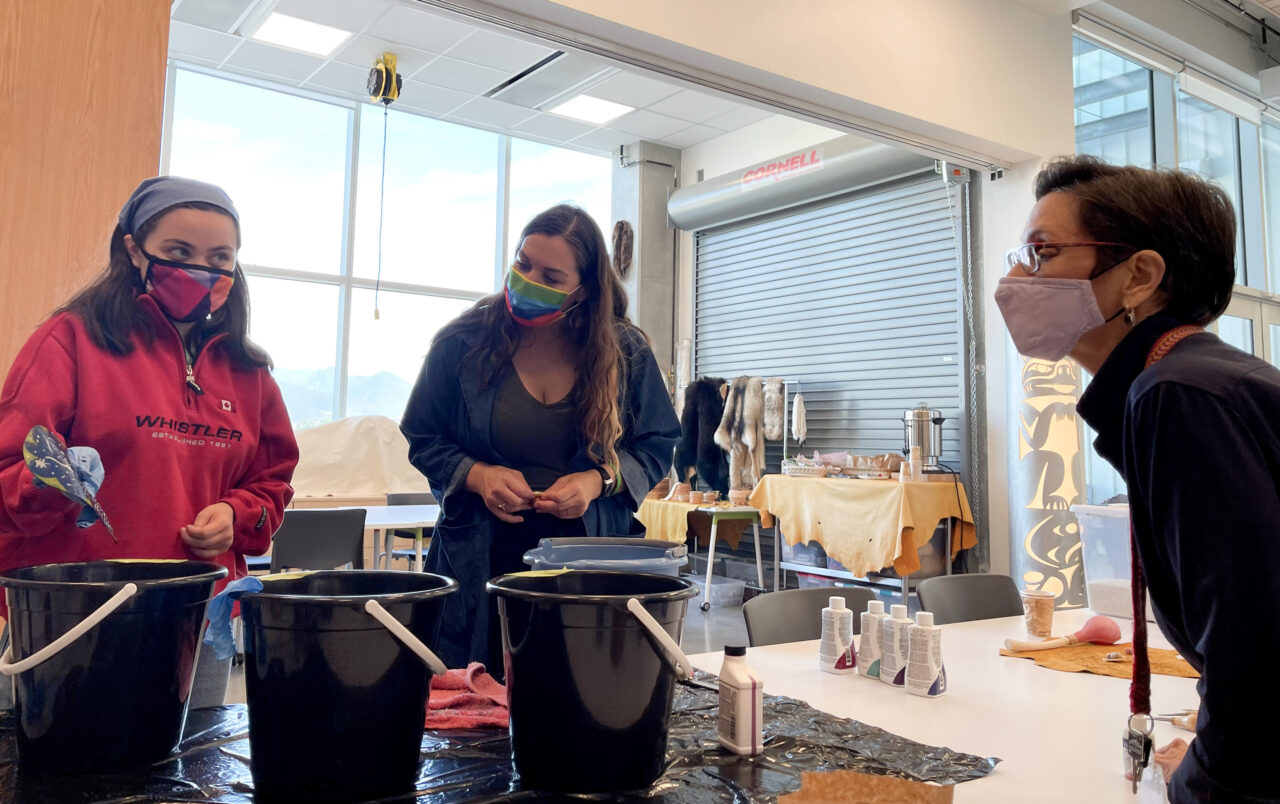 To reflect this renewed experience of her environment, Nicole has been producing photos and paintings of landscapes. These images often reflect more personal histories as well; in recent years, Nicole discovered her great, great grandfather was a West Vancouver lighthouse keeper. She also learned one of her relatives was a totem pole carver, who carved a pole that stood down the street from where she grew up. These places and figures have now begun to appear in some of her works.
Nicole says she's also begun to recognize the ongoing work of culture in places she'd previously missed it. Walking in the forest, she'll sometimes spot a cedar tree where someone has taken bark for material practice. Some of these experiences make their way into her artwork as well.
"I had no idea these things were all around me this whole time," she says.
Nicole's experience at the AGP has also kindled a real love for teaching and sharing knowledge, and she is now teaching material practice to family members.
"Some of my cousins are going through the process of getting their ancestral names," she tells me. "They're making their entire regalia for the ceremony, and they wanted rattles to go along with it. So I taught them how to make rattles, which is really cool. Just being able to know how to do that … I love it."
And in summer, 2021, she helped a friend lead a hide-tanning workshop, stepping into what she calls a "full circle" of material practice — tanning the hides she then uses to make rattles and drums.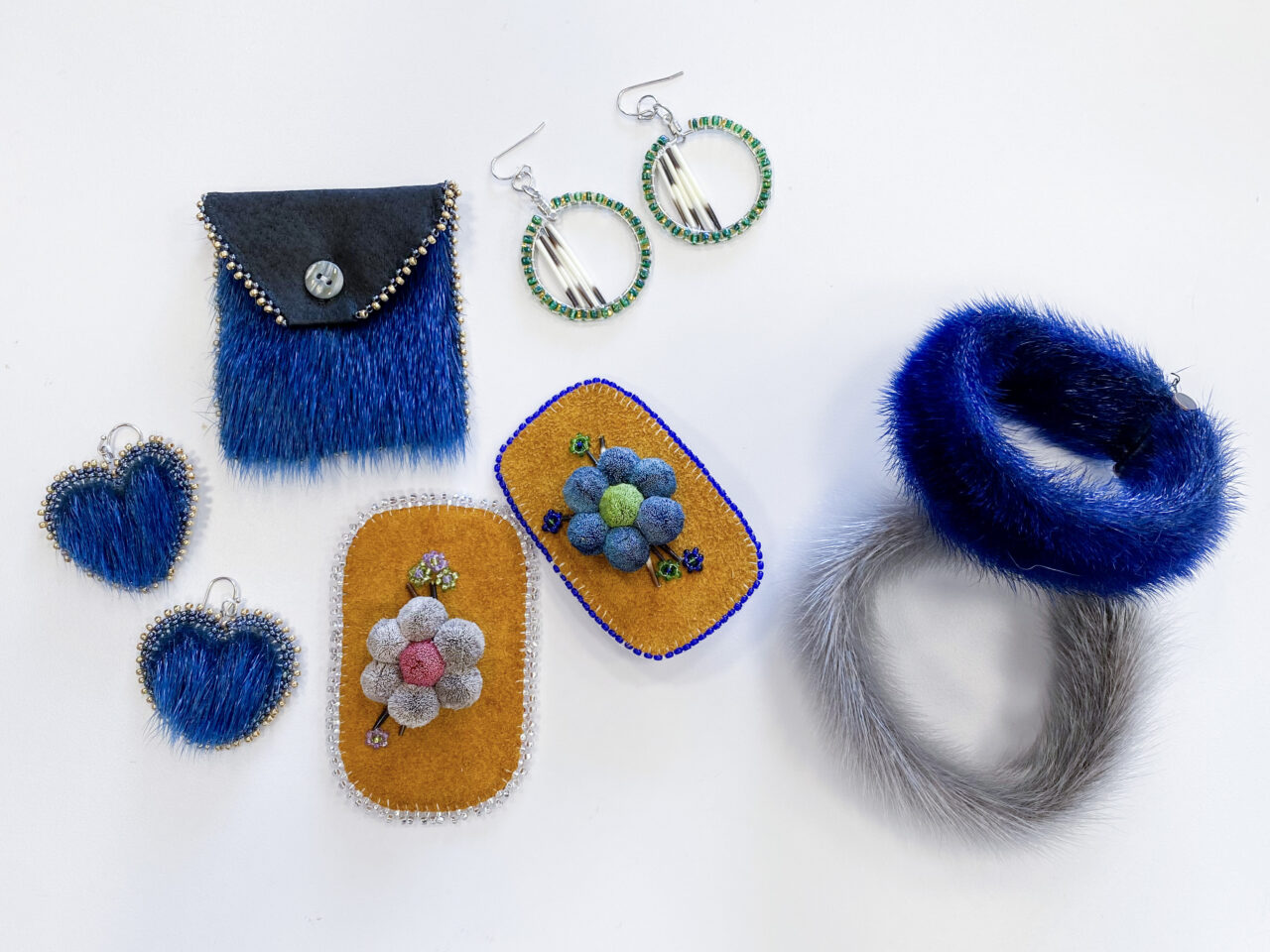 With a December graduation beginning to loom on the horizon, Nicole says she's not quite sure what's next. But recalling her own experience growing up, she hopes to bring some of what she's learned at the AGP back into her home community, as a teacher.
"In my nation, we have so much offered now, but I still don't see as much material practice being offered to community members as I think there could be," she says. "I think it would be cool to try and teach that."
Visit Nicole's website and follow her on Instagram to learn more about her visual art practice.
Visit the Aboriginal Gathering Place online to learn more about workshops like the ones Nicole teaches, as well as the rest of the AGP's extraordinary range of programming and resources.