Xwalacktun's Artwork Graces New West Vancouver Firetruck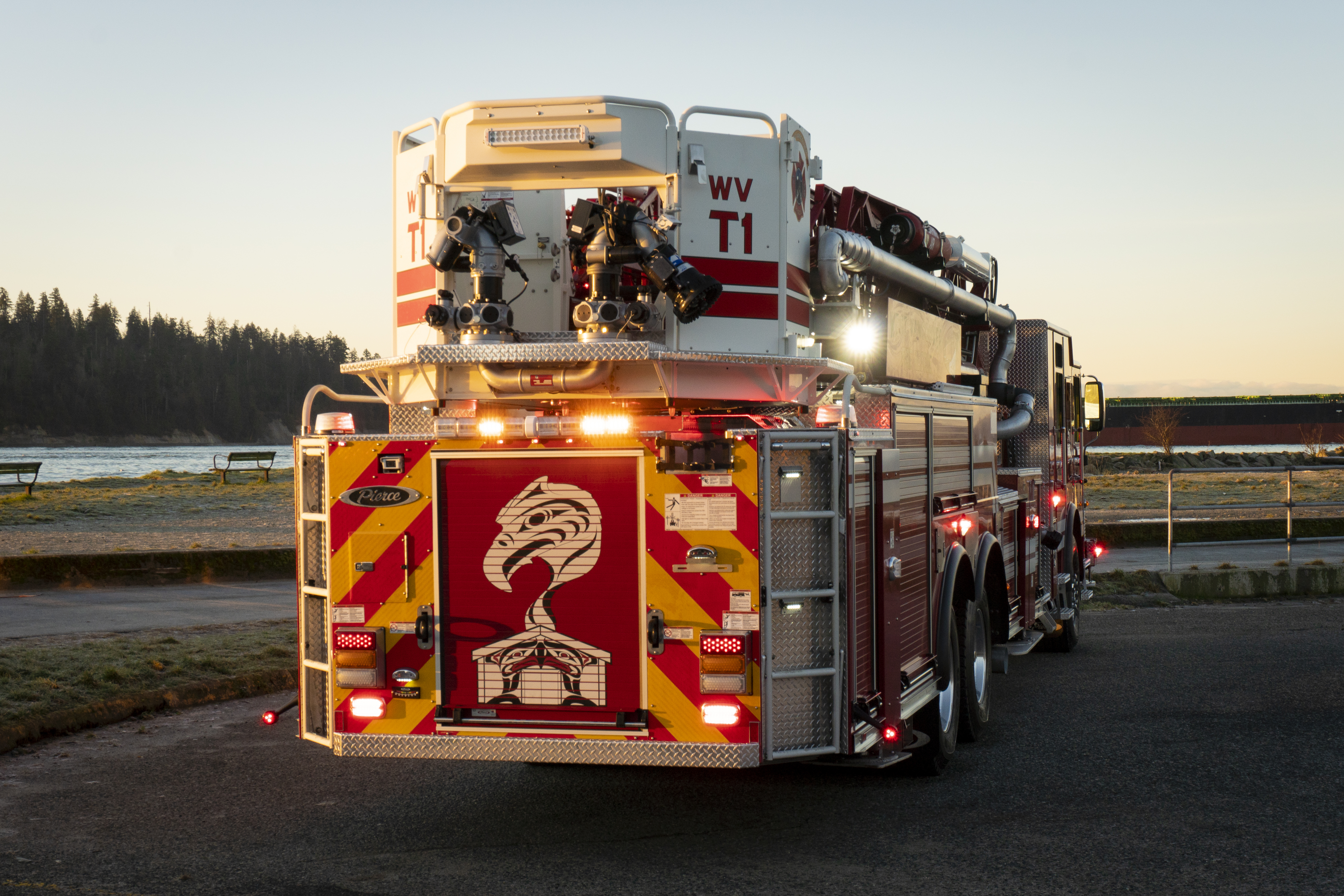 Posted on April 21, 2022 | Updated April 25, 2022, 9:43am
The Squamish Nation artist and educator spoke with The Squamish Chief about his collaboration with West Van Fire and Rescue.
West Vancouver Fire and Rescue Services (WVFRS) recently unveiled a new $1.77 million firetruck featuring the artwork of Sḵwx̱wú7mesh Úxwumixw (Squamish Nation) artist and educator Xwalacktun.
The truck's debut was featured earlier this month in an article in The Squamish Chief, and later by Global News and the CBC.

On the rear of the truck, a thunderbird appears in a plume of smoke, rising from a longhouse. The truck's side bears a canoe with raised paddles featuring Coast Salish "eyes" holding up the Lions Gate Bridge.
Speaking with The Squamish Chief, Xwalacktun reflected on the connection between first responders and safety.
"We always need to have a safe home," he said. "The firetrucks, the fire community, we always have to look after that so that we are always safe in our homes."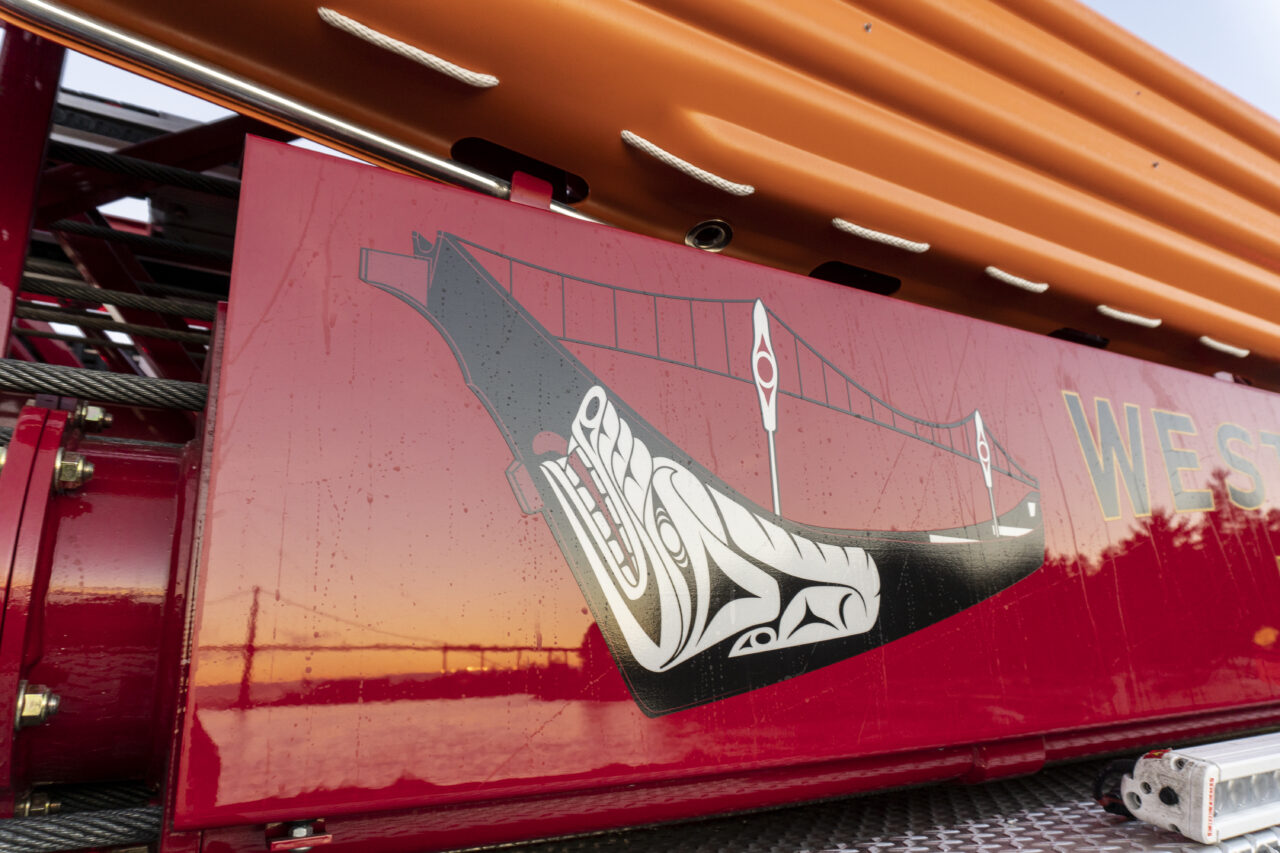 Xwalacktun also pointed to some of his artistic decisions, noting the ways he aimed to draw a deeper connection between the artwork and the truck.
"With the Salish design, you see the eyes are protruding out with those crescents," he said. "Those represent that it's seeing beyond normal vision, moving towards the creator into the spiritual world … And fire is very sacred to us.
"And our houses, we're always open to community, right? Whenever we have big gatherings, people come to our big houses," he continues. "It's very important to have a longhouse shape. It's not a traditional Salish house, but it represents a longhouse. It's pretty diverse around here, anyways."
The canoe and bridge motif, meanwhile, are meant to convey a message of unity.
"We've got the bridge, [representing] working together, coming together as one, thinking about balance in our community," he said. "And pulling together, showing respect for one another. [And] when the paddles are up, it represents 'We come in peace and we show respect.'"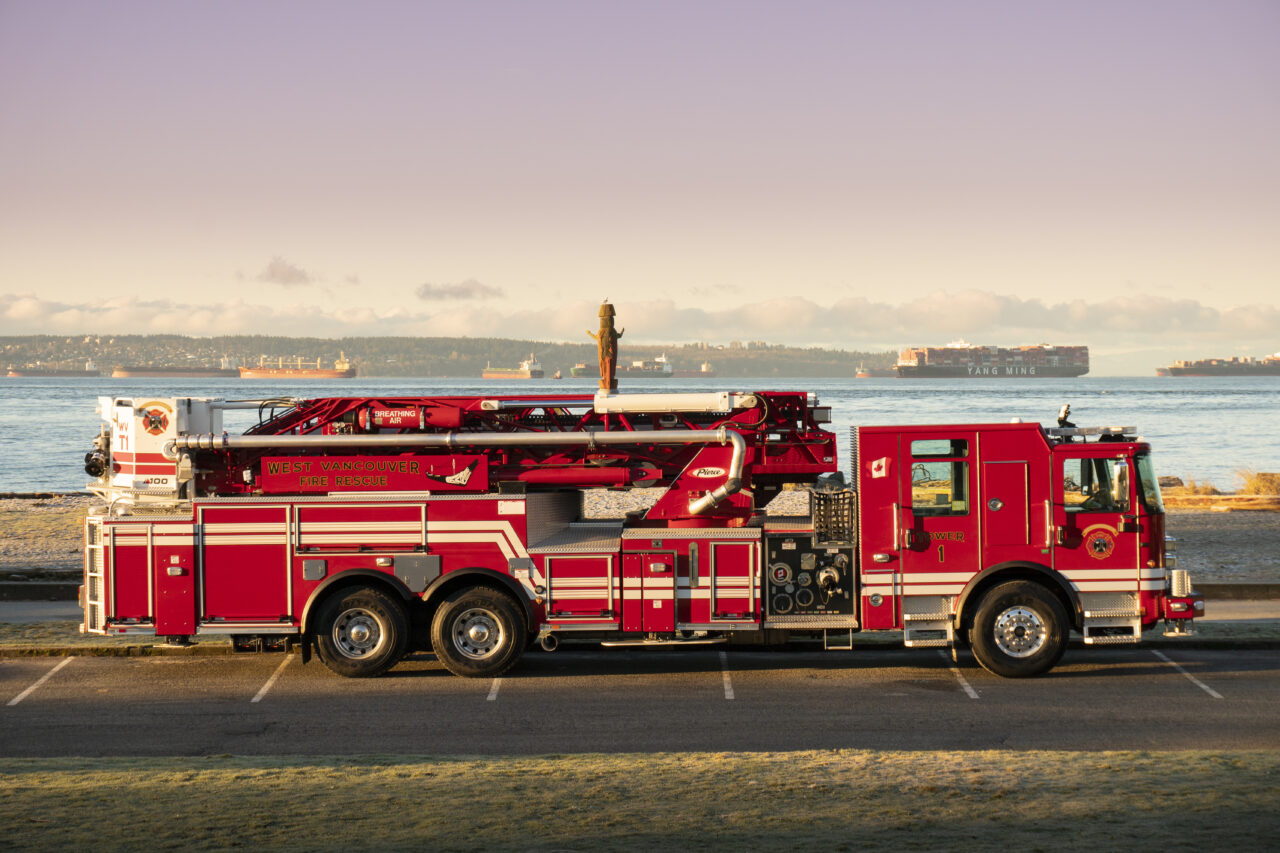 Fire Chief Dave Clark told The Squamish Chief he'd spoken to a number of community members who were deeply moved by the story of Xwalacktun's collaboration with the department.
"It's been very powerful for a lot of people," he said, noting the WVFRS has been looking for ways to make more meaningful connections with local First Nations.
For Xwalacktun, talk of truth and reconciliation is fine so long as it's backed up by real work.
"This is an action, in our eyes and in our community. And to see something happening that's very, very visible, because we always used to say that we are invisible in our own land. I used to hear that from our Chiefs and our Elders."
Read the full Squamish Chief article today, online, and visit the CBC and Global to read more. Visit Xwalacktun's website to learn more about his art, and find out all about his work at Emily Carr University via ecuad.ca/news.