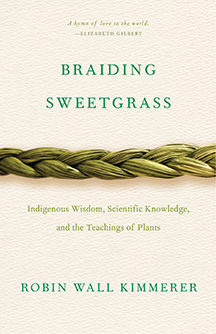 The Braiding Sweetgrass study circle was established through an Emily Carr teaching fellowship initiative which offered opportunities for the extended community of Emily Carr to engage with alternative and innovative forms of teaching and learning. Of particular significance was the possibility of participating with new pedagogical forms that reflected the pressing issues and needs of our school's diverse demographics and expanding social consciousness.
The study circle was oriented around the teachings in Potowatami botanist Robin Wall Kimmerer's award winning book, Braiding Sweetgrass: Indigenous Wisdom, Scientific Knowledge and the Teachings Of Plants, which focuses on Indigenous Anishinaabe worldviews, traditional plant knowledge and the ways that we can carry out our responsibilities and reciprocities with and for our other-than-human relatives. It gave us strategies to consider in creating a more caring sustainable world.
This discussion group was created to exemplify an Indigenous non-hierarchical model of teaching and learning, one in which undergrad and graduate students, staff, faculty and Indigenous community members gathered to read together, listen thoughtfully, share perspectives, dialogue, learn and reflect on Indigenous traditions and the worldviews within which these wise and pertinent teachings arose.
Each gathering unfolded slowly in a responsive and emergent manner allowing the participants to reflect deeply on the understandings gleaned in the text in relation to their own subjective lived experiences. And this is where the richness of the learning occurred. Each participant's response built on the previous response opening up a profoundly expansive field of thought that encouraged us to consider the misfortunes and harms of capitalism, colonialism and human exceptionalism and to put forward alternative possibilities for thinking, being, doing, and making. In the midst of this undertaking, we created a community of care and strength and belonging, one committed to shepherding in and creating the foundations for new and emancipated worlds to arise. It was a profoundly moving and enriching experience for all.
This collection of resources emerged from the weekly conversations and was compiled by ECU librarian and group participant Hillary Webb: