Library Services for Students, Fall 2021
Posted on September 13, 2021 | Updated August 25, 2022, 10:21am
Filed in Students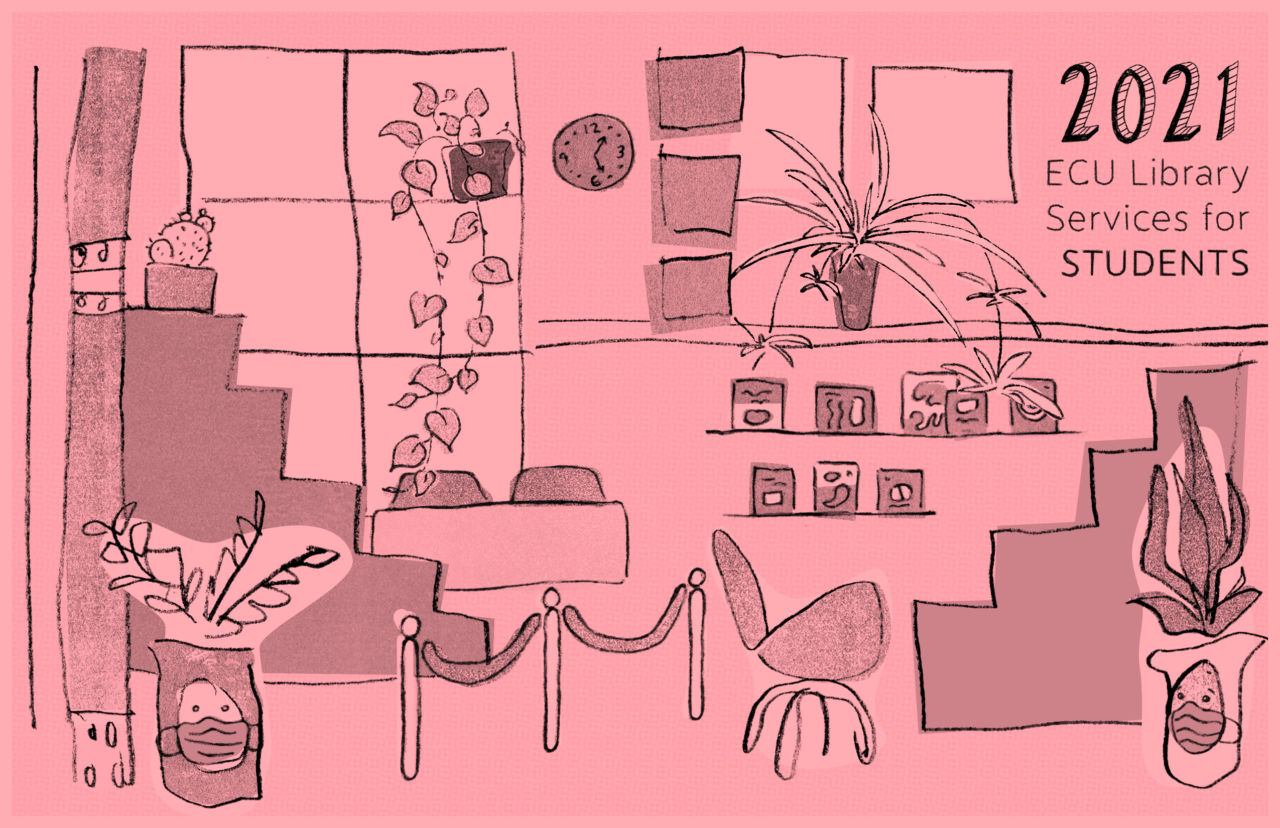 Dear students,
Welcome back to campus! We look forward to seeing you back in the library and online. This post contains information about library services that we will be providing to students in the fall semester.
Library Hours
Monday - Thursday 8am - 8pm
Friday 8am - 6pm
Saturday - Sunday 1 - 5pm
For the most up-to-date information on Library and Archives services and resources, visit our website: ecuad.ca/library
The Library + Learning Commons is a multi-use space that we invite our community to use for study and collaboration.
We have a variety of resources available, including computers, scanners, photocopiers, B&W and colour printers. We also have bookable study rooms and media viewing stations.
You can find out about upcoming events, exhibitions, and new resources by following us on Instagram: @ecu_library and @ecu_artists_books
Collection Access
A current Emily Carr University OneCard or Community Borrower card is required to borrow materials. Come by the library service desk to connect your card to your library account.
The ECU library is a fine free environment. We believe that your library experience should be inclusive, accessible, and positive. We have removed late fines on all library materials except those borrowed from other institutions through interlibrary loan.
Our library collection includes: print materials, like books, artists' books, and exhibition catalogues ; online databases with eBooks and journal articles ; media ; streaming video ; archives ; our creative tool & wellness library ; and an institutional repository with staff, faculty, and student research and digitized archival materials.
Digital Collection Access
You can use our Databases A-Z list to find our complete digital collection, including eBooks, online journals and magazine articles, abstract and index databases, digital image collections, streaming video, and our eCollections. You can also use the General Search feature on the library home page to search multiple databases at once.
Course Reserves
Your Instructors may place books, eBooks, videos and streaming media on reserve for your courses. You can view a list of online reserve items for your course on the Reserves List page.
Interlibrary Loans
You may request an interlibrary loan for material not owned by the Emily Carr University Library, including books, journal articles and eBook chapters. Materials will be borrowed by the Emily Carr University Library on your behalf from other BC post-secondary libraries.
Interlibrary loans should be requested through the online form.
Artists' Books
Emily Carr has a growing collection of over 2,100 artists' books that reflect the diversity of publishing practices in contemporary art. Established with a donation from Ian Wallace, the collection builds upon some exemplary samples of early avant-garde, conceptual artist's books.
For more information, visit: guides.ecuad.ca/artistsbooks or contact us.
Archives
Emily Carr University's archival collection contains photographs, college calendars, student newspapers, posters and other memorabilia related to the history of the university back to its founding in 1925. It also includes the Wosk Master Print Collection and the Sam Carter Canadian Design History Collection. For digitized archival photographs, academic calendars, historical student publications, the Wosk Masterworks Print Collection and more visit eCollections at Emily Carr.
If you would like assistance with accessing online archival material for research, or have questions about how to do archival research, please contact Kristy Waller, ECU Archivist.
Suggestions
Have a great recommendation for a book or journal that we should include in our collection? Let us know!
Research Help
The Research Help Desk in the library should be one of your first stops when starting a project or looking for library help. We want to help you make the most of what the library has to offer. Whether it's a simple question about library resources or a complex discussion about how to approach your research, we encourage you to ask us!
Research desk hours:
Monday - Friday: 11:30am - 1:30pm, 4 - 5pm.
Research help is also available by appointment (in-person or on Zoom) at any time during our open hours by request. Ask at the service desk or email us.
You can also use our online research help chat service AskAway. For details, visit our Research Help page.
We have a variety of research guides available online that span a variety of course-related subjects, as well as citation and research skills.
And so much more…
Supplies Swap
The Supplies Swap is a space for donating and accessing usable art and design supplies. Students, faculty, and staff can donate new or gently used supplies to be reused and repurposed, or find materials to inspire and complete projects without having to purchase them new.
Exhibition space
We encourage students, faculty, staff and alumni to be active participants in the library space by submitting their ideas for library exhibitions and space interventions. Visit here for more information and to access our exhibition policy and proposal form.
Study Room Booking
The library has four study rooms that can only be booked by students:
C1234 (Room 1): for 10-12 people, media viewing station
C1237 (Room 2): for 4-6 people
C1236 (Room 3): for 4-6 people, media viewing station
C1261 (Room 4): for 4-6 people, in quiet study area