Writing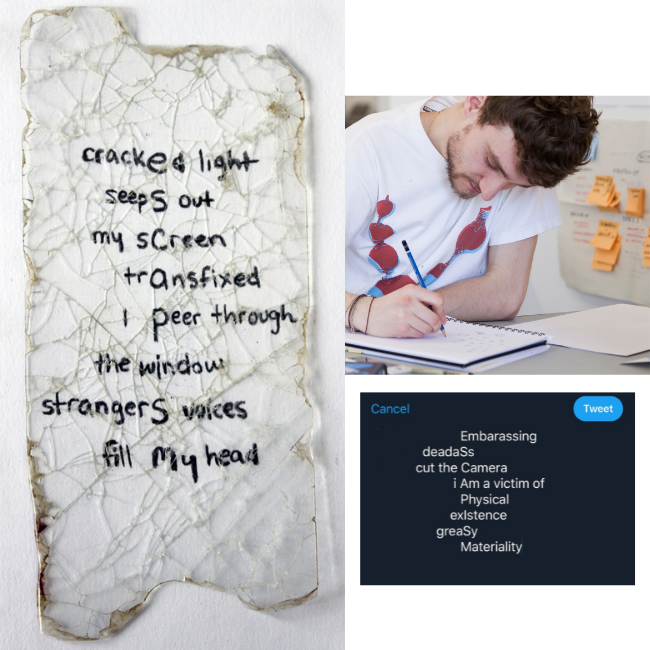 A site of resistance, experimentation, inquiry, and play.
Writing is a creative practice in its own right. Like art and design, a writing practice has sketches, masterpieces, final realizations, and everything in between. At ECU, we believe writing does not merely reflect the world, but is also an action in the world.

The interdisciplinary Writing track offers students a chance to explore writing in a studio context and to experiment with language in a diverse community of writers.
What You Will Learn
You can take courses in collaborative writing, script writing, art writing and reviewing, poetry, fiction, and drama, graphic novels and creative nonfiction, editing and publishing, project-based writing and more. You can also engage in creative writing across multiple languages, whatever your fluency, exploring the possibilities of language.

Focusing on experimentation, we offer you the chance to create a writing practice in an interdisciplinary community and to make connections with your art and design practices. This can include working on specific writing projects under the guidance of professional, published writers. Editing, publishing, and performing are also integral parts of the program.
The Writing track is a unique set of courses that approaches writing as a process-based material practice. Courses are studio-based and emphasize the connection between other art, design, and media-based practices. You can move through these courses in multiple ways and with flexible timing.

"I don't want students to think of writing as a struggle. There's excitement, there's joy. Unexpected things can happen."
Program Structure
Writing is a selection of courses that students can take as a complement to their major. Students can determine their own depth and area of engagement with writing as a practice.
It is situated within the Faculty of Culture + Community, and closely entwined with activities of The Writing Centre.
Meet Your Future Community
Explore More