ECU News Roundup | August 16, 2022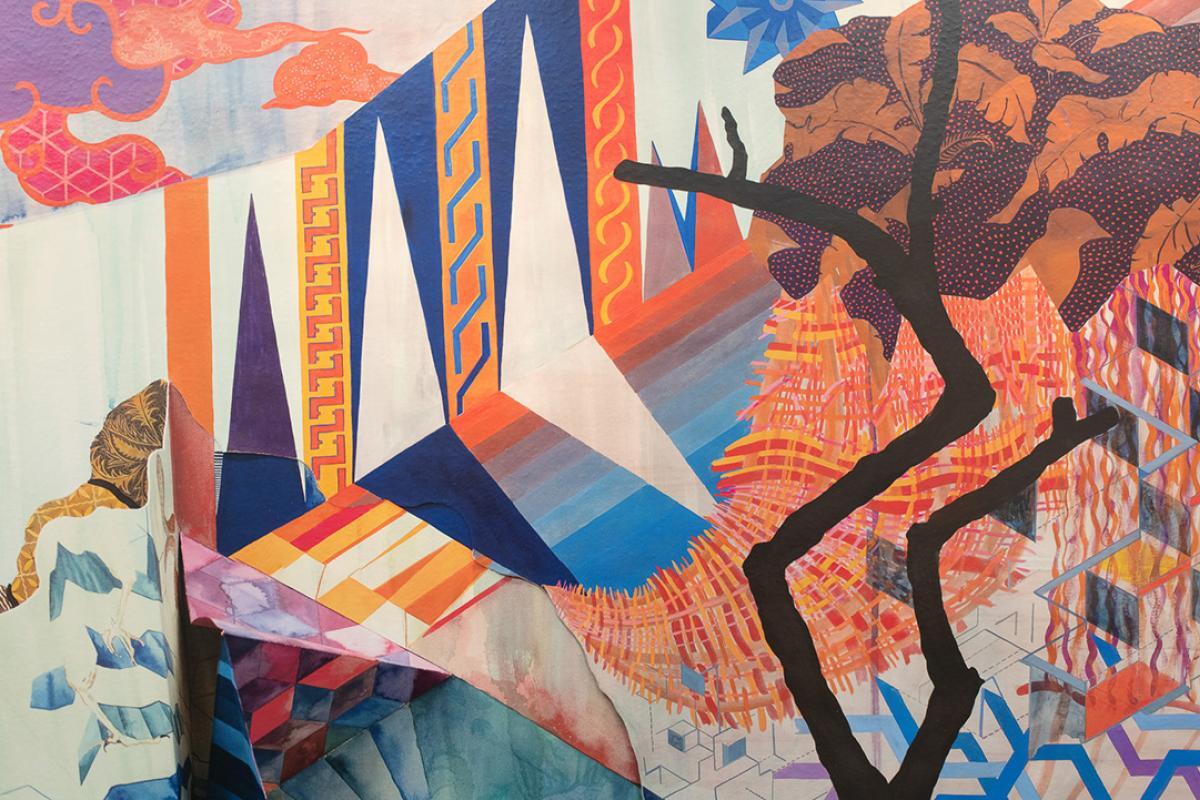 Posted on August 16, 2022 | Updated August 16, 2022, 9:15am
This week: Diyan Achjadi | Louise Dee + Suzo Hickey | Gabrielle L'Hirondelle Hill | Edward Madojemu | Alayna Y.
Welcome to our new semi-regular feature, the ECU News Roundup.

Read on for a snapshot of some of the media coverage our community has recently received.

Diyan Achjadi at Burnaby Art Gallery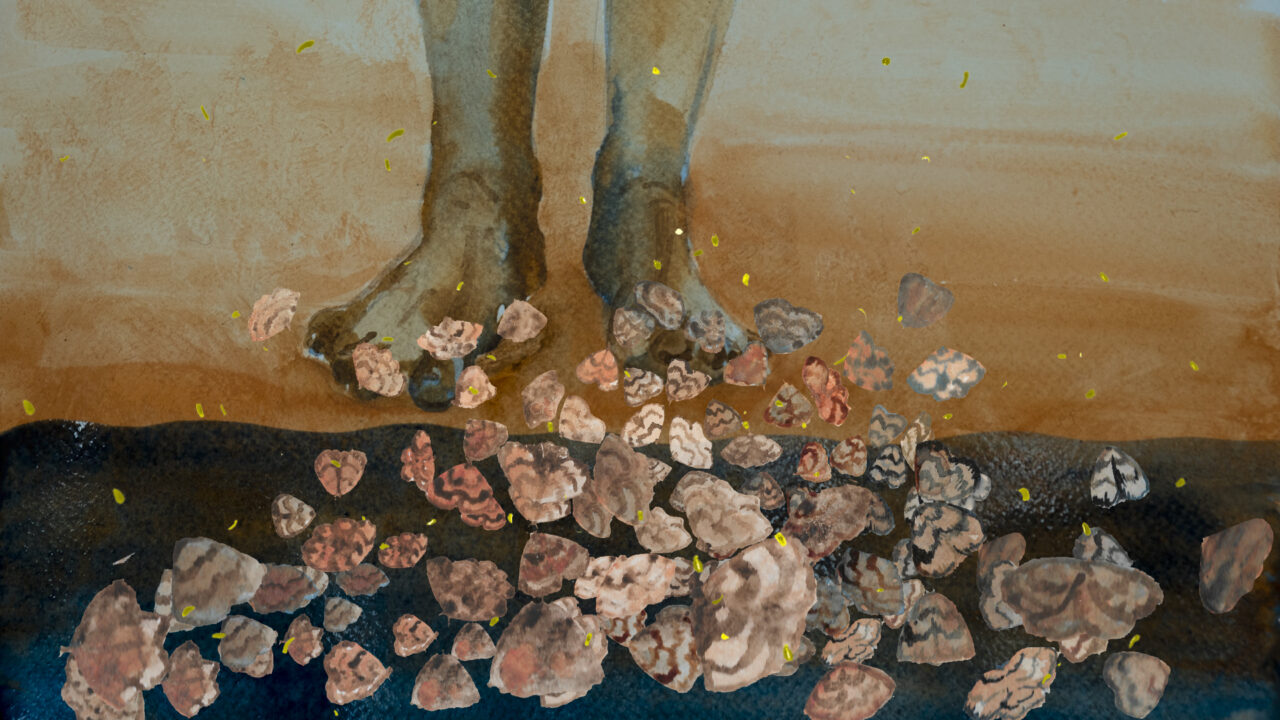 Carried Through the Water, the latest solo show from artist ECU faculty member Diyan Achjadi received press in both Burnaby Now and in French-language publication Journal La Source.
The show explores "the impact of human activity on the ecosystem, including shifting of shorelines due to climate change and land reclamation," reads the exhibition text.
"Through visual storytelling, Achjadi's work also considers how activities in one location might impact multiple other locations. An ash-cloud from volcanic activity on one island might change the colour of the sky thousands of miles away, and the movement of people, objects, stories, and memories, can have profound effects that reach across oceans."
Catch Carried Through the Water at the Burnaby Art Gallery through Sept. 18.
Read our feature on Diyan's work on the ECU website.

Louise Dee and Suzo Hickey at Gibson's Public Art Gallery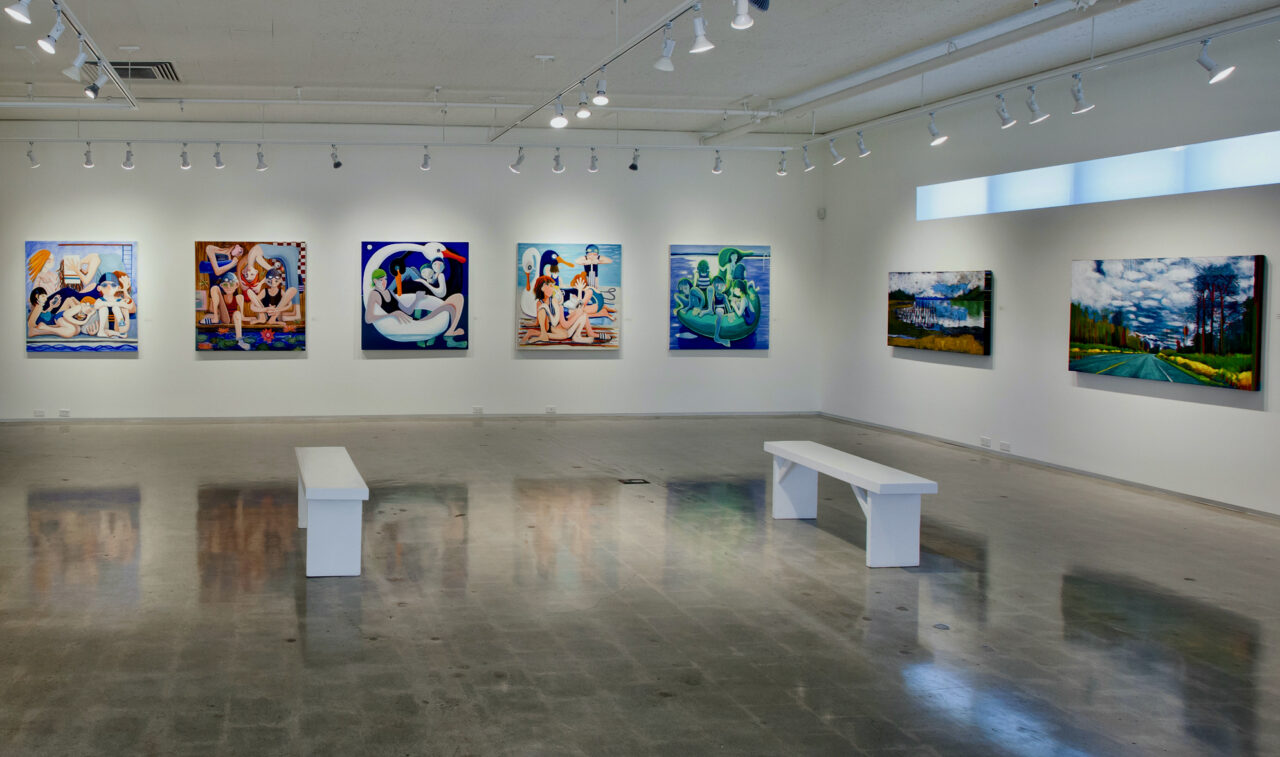 The Coast Reporter recently turned its focus on a pair of artists exhibiting at the Gibsons Public Art Gallery.
Painters Louise Dee (BFA 2018) and Suzo Hickey (alum 1994), both of whom are Emily Carr University alumni, showed in simultaneous summer exhibitions on the Sunshine Coast. Louise's solo show was titled Public Pool while Suzo's was titled Small Fish Big Landscape.
Both artists reflected on how the experience of COVID lockdown had influenced their work. For Louise, taking the public pool as her nominal subject was a way to address experiences of loneliness and social distance.
"Somehow in public gatherings when different people come together, the rules are different, but people still understand the rules," she told the Coast Reporter. "I was thinking of my own experience of going to public places like a market. You don't necessarily speak to everyone or anyone, but being around people gives you a sense of connection."
Suzo, who lives in Prince Rupert, recalls early lockdown as a time when everything came to a halt. This sudden, jarring stop encouraged her to look to her immediate surroundings for inspiration, she says.
"Every show I had was cancelled. All of a sudden you could do whatever you want. You're not going anywhere, so I thought: what's around me that I can access?"
Visit Louise and Suzo online to learn more about their work.
Gabrielle L'Hirondelle Hill at Venice Biennale
The standout contribution by artist and ECU faculty member Gabrielle L'Hirondelle Hill to group exhibition The Milk of Dreams at the 59th Venice Biennale was the subject of yet another laudatory critique — this time, an essay in Field Notes. Featuring texts on the 59th Venice Biennale and Documenta 15 contributed by students and recent graduates, the Field Notes series is published by Art & Education, an imprint of Artforum and e-flux.
"Within the grander scheme of The Milk of Dreams, Hill's work is both apt and refreshing," reads the review, noting her work reflects "one of the exhibition's major conceptual underpinnings," which is "an interest in a larger historical trajectory of art production that seeks to undo dualistic world views."
Gabrielle's work "takes up ideas of categorical ambivalence in its use of Indigenous knowledge systems," and hints at "the way the settler state is fundamentally indebted to Indigenous knowledge, an exchange that occurs through violent forms of institutional legitimization or delegitimization."
Gabrielle's work was also featured by Artforum on its Instagram account, pointing to the Field Notes essay.
Read our feature on Gabrielle's work now, on the ECU website.

Edward Madojemu's Mescaform Hill on Oculus Blog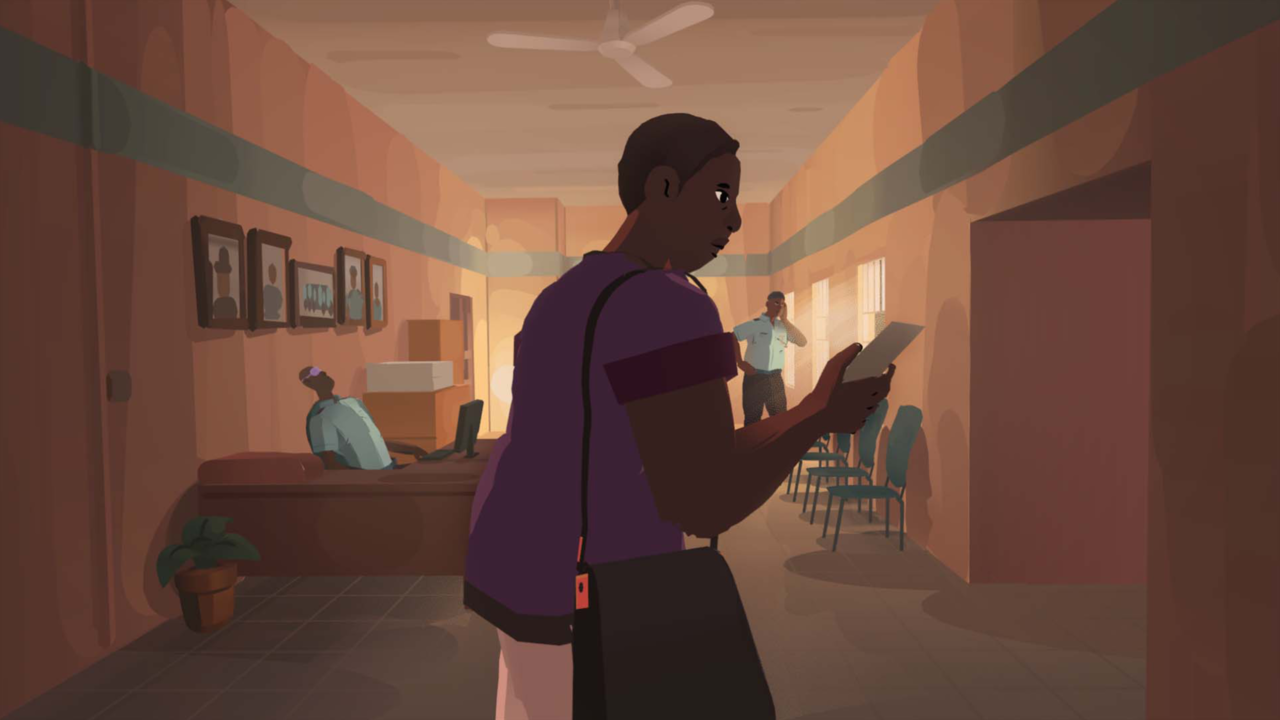 Alayna Y.'s Macaroni Soup
Artist and animator Alayna Y. was recently interviewed by the Surrey Now-Leader about her 2021 film, Macaroni Soup. The animated short, created by Alayna during her final year at ECU, is featured in this year's Vancouver Queer Film Festival.
Alayna spoke about the dreams she has for her Surrey home, which include opening a "Hong Kong-style café one day. I really want that," she told the Now-Leader.
In a bio on Film Freeway, Alayna playful reflects on her practice, and on the making of the film.
"I'm of the camp that if you combine a bunch of things that you like, you'll come out with something that you super-duper like," Alayna writes. "I like stories about food, women and language, so I threw that all together along with some diasporic memories of Hong Kong culture and out came Macaroni Soup. The taste might be new, or maybe it's a flavour only I would like, but no matter — feel free to have a bowl!"
Read more about Alayna and Macaroni Soup on the 2021 The Show archive, and via Alayna's website.
Get more stories like these delivered to your inbox twice a month!