UX Design Certificate Students Earn Award for Financial Literacy App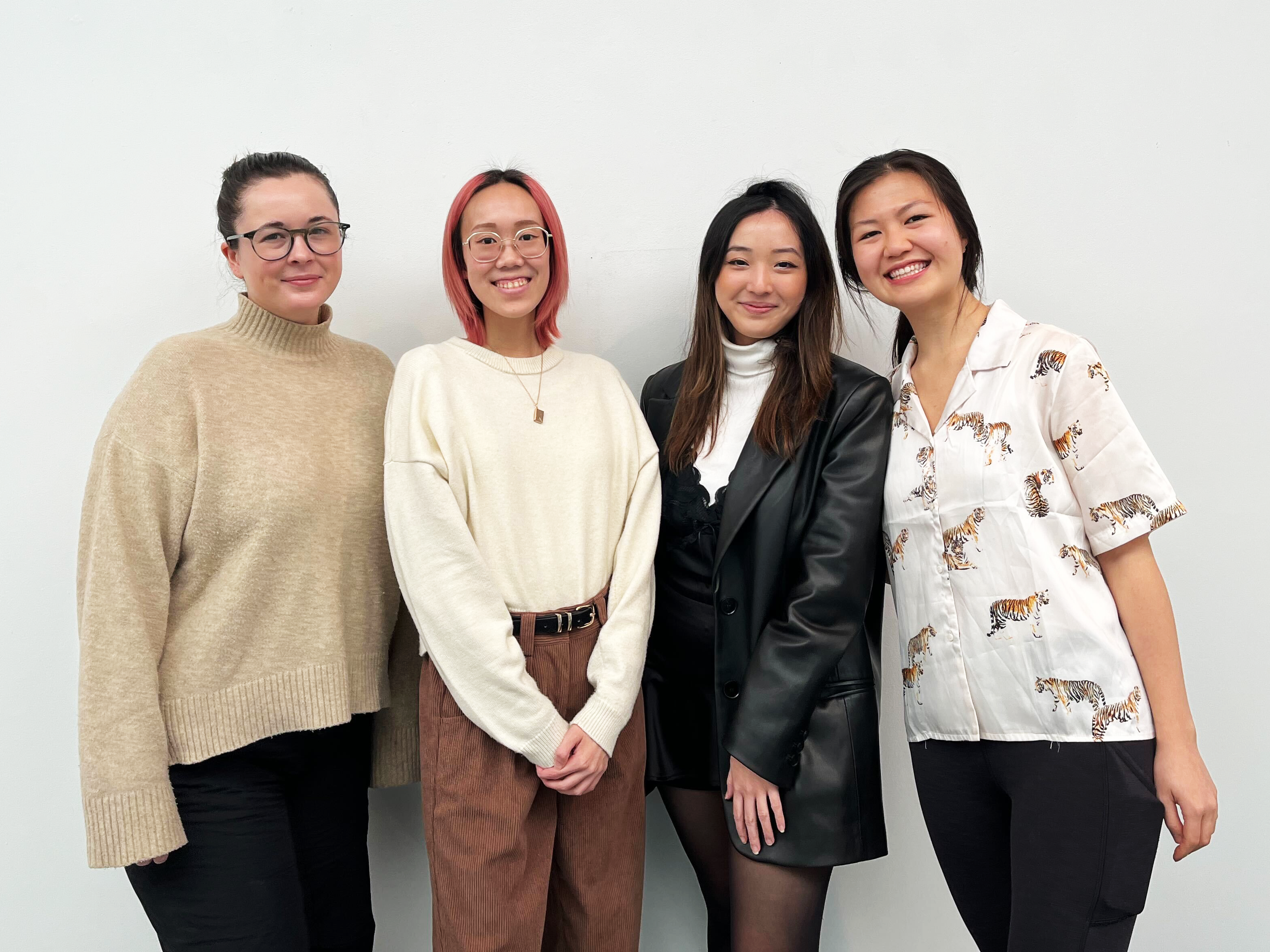 Posted on April 19, 2023
Sydney Batters, Carmen Tin, Diana Tu and Jancis Wong took home Best UI/UX Design for their app, Pygg, which was designed and prototyped in less than 48 hours.
A team of students from ECU's User Experience (UX) Design Certificate program recently won an award for their app teaching financial literacy to youth from low-income households.
Called Pygg, the app was recognized with an award for Best UI/UX (user interface/user experience) Design at the Build'23 Hackathon.
Billing themselves Ctrl+S, students Sydney Batters, Carmen Tin, Diana Tu and Jancis Wong designed and built the app over a gruelling 48 hours. None of them had competed in a previous hackathon. Their goal was to test their skills as they neared the end of their UX training.
"We were excited alone to participate and see how we can compare ourselves to the other participants in the hackathon," Carmen tells me via email.
"Once we realized we won the award, it was certainly very exciting and rewarding. We are elated. It definitely gives us a huge boost of confidence as we are slowly approaching the end of our program and preparing ourselves for job interviews and applications."
Pygg is partly a response to statistics showing financial literacy as a critical determinant of health. As of 2020, Statistics Canada lists roughly one in ten Canadians as living in low-income families. Pygg aims to help young people gain a clearer understanding of how to handle their finances. The app teaches skills including debt management and achieving financial goals.
"Our team noticed that financial literacy is never something we learned inside a classroom," Jancis says. "Without early financial education, it becomes a barrier for people to manage their finances and plan for their future successfully."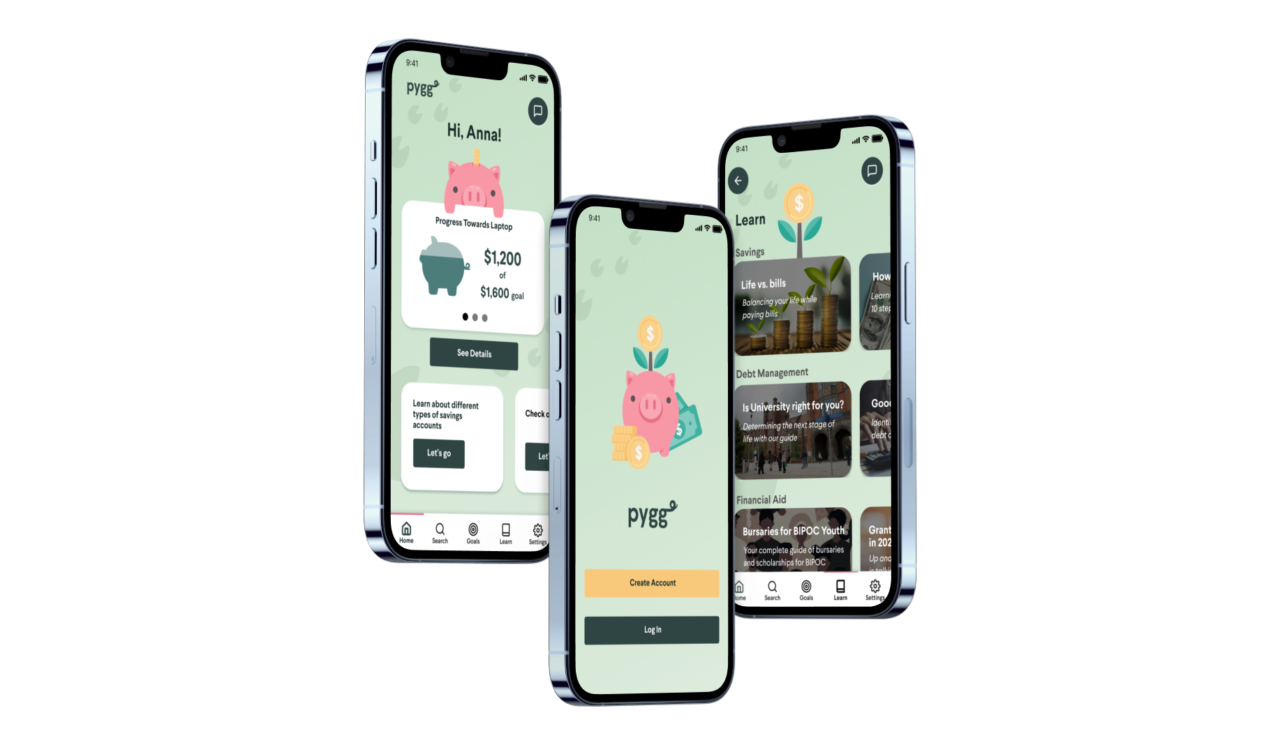 The students met in the UX Design Certificate program. Each of the four team members brought unique skills from previous work experience. They'd also worked together on class projects before the hackathon.
"So, we knew before the hackathon began that this was a group of people who were capable, inspired, and motivated to succeed," Diana says.
The app's name comes from the clay originally used to make household plates and pots. People would often use one of these vessels to store their spare change. Such vessels came to be known as "pygg" banks or pots. Eventually, this tradition evolved into modern piggy banks.
Building the app in less than 48 hours was "stressful but exhilarating," Diana says. But the hackathon was also "one of the most memorable experiences in our UX design journeys," she adds.
"Coming up with a product idea we were all passionate about, taking it from ideation to launch and presenting it in front of industry judges in such a short timeframe is something we are all immensely proud of."
The group naturally found its rhythm and made decisions as a team. They pushed themselves to include "ample, reputable secondary research, a well-thought-out visual identity and strong UI design principles," Sydney tells me.
And their commitment shows. Their final product is graceful, polished and user-friendly. They took inspiration from blockbuster apps such as Mint and Duolingo. Pygg employs calm, friendly colours and easily legible typefaces. All text and buttons also meet accessibility standards.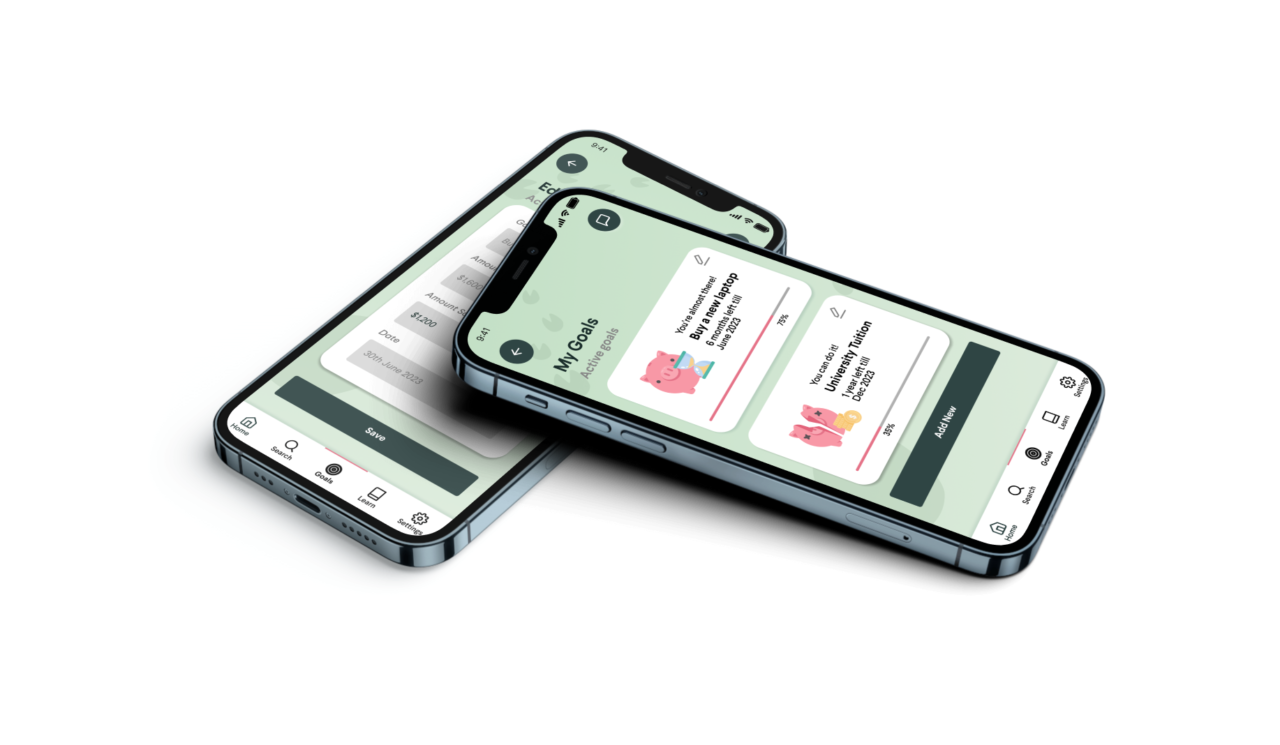 According to Sydney, the team's success is partly due to the collaborative emphasis of ECU's UX Design Certificate program. Their training in "crucial industry standard tools and skills" was also essential.
"Emily Carr University has crafted one of the industry's best UX Design certification programs," she says.
"We are incredibly grateful to the brilliant and hard-working educators who have supported our growth as students throughout this program. They certainly prepared us well for this Hackathon. All of our team members will be seeking employment and continued education post-graduation."
Want more stories like this delivered to your inbox twice a month?