Sydney Pickering on Tanning Hides, Rekindling Connections and Learning from the AGP's Changemakers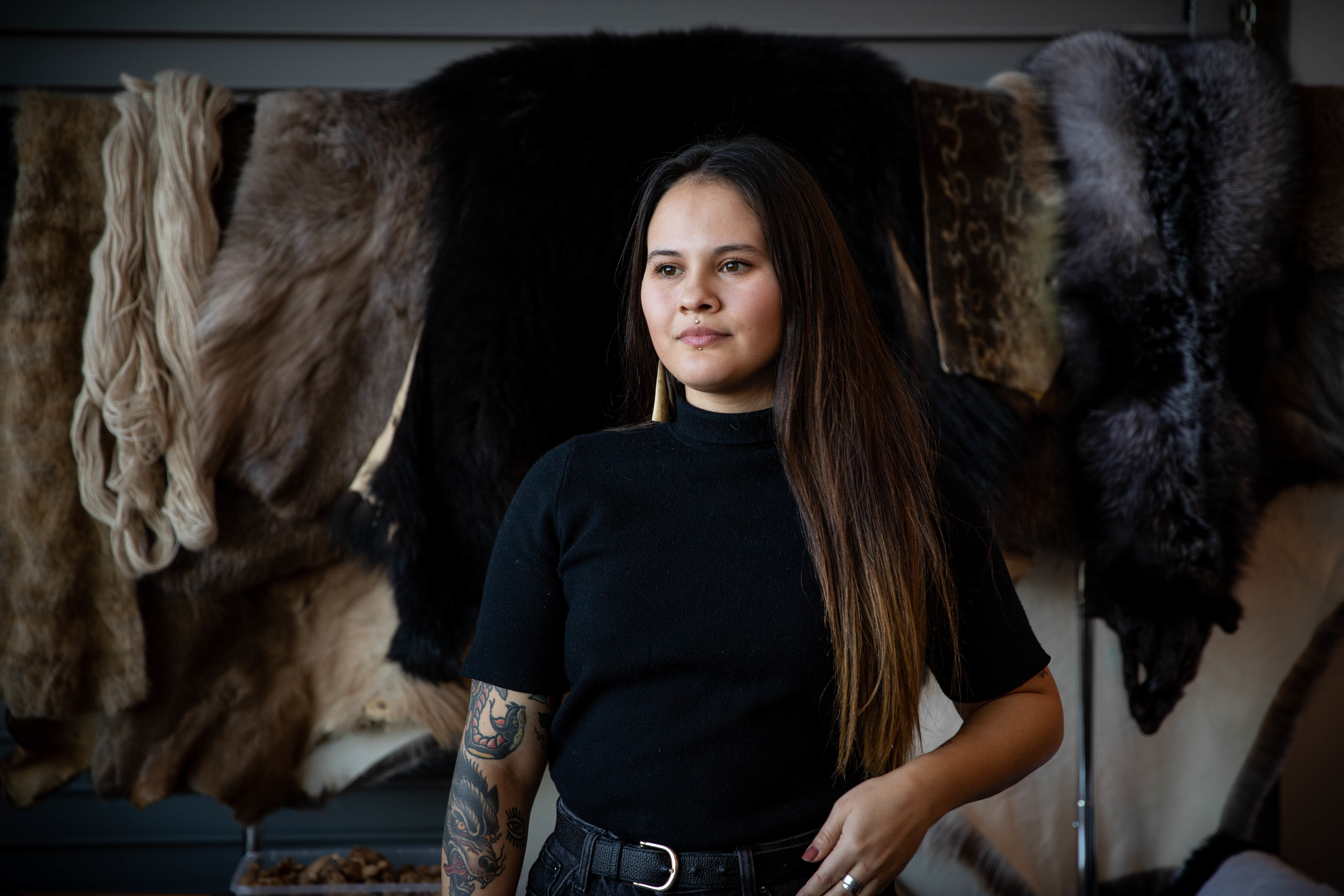 Posted on December 03, 2020 | Updated April 27, 2021, 12:48pm
The Aboriginal Gathering Place provides a 'home away from home' for Indigenous students, says the artist and ECU student.
Sydney Pickering, artist, researcher, activist, family archivist and community advocate, whose work both defines and defies each of these titles, sits in the Aboriginal Gathering Place (AGP) midmorning on a rainy Tuesday.
The AGP is quiet, though working steadily in each of its three offices, just behind Sydney's chair, are the women who run Aboriginal Programs and provide access to culturally specific learning for Indigenous students at Emily Carr University: Brenda Crabtree, Director of Aboriginal Programs and Special Advisor to the President on Indigenous Initiatives; Connie Watts, Associate Director of Aboriginal Programs; and Angela Marston, who recently joined the team as Aboriginal Program Coordinator.
Technically a transplant from the prairies, Sydney is Vancouver Island-born, and a once-distant daughter of the Coast Mountains, now returned. Currently in the final stages of her undergraduate degree at Emily Carr, she was recently hired on as a paid researcher for the AGP. And while her work in that role has kept her plenty busy, she's been keenly observing everyone around her.
"It's been really humbling to see how they work and make changes happen — changes that I didn't think were happening before," she says of Brenda, Connie and Angela. "It's been really eye-opening to learn from them, to just sit here, listening, watching."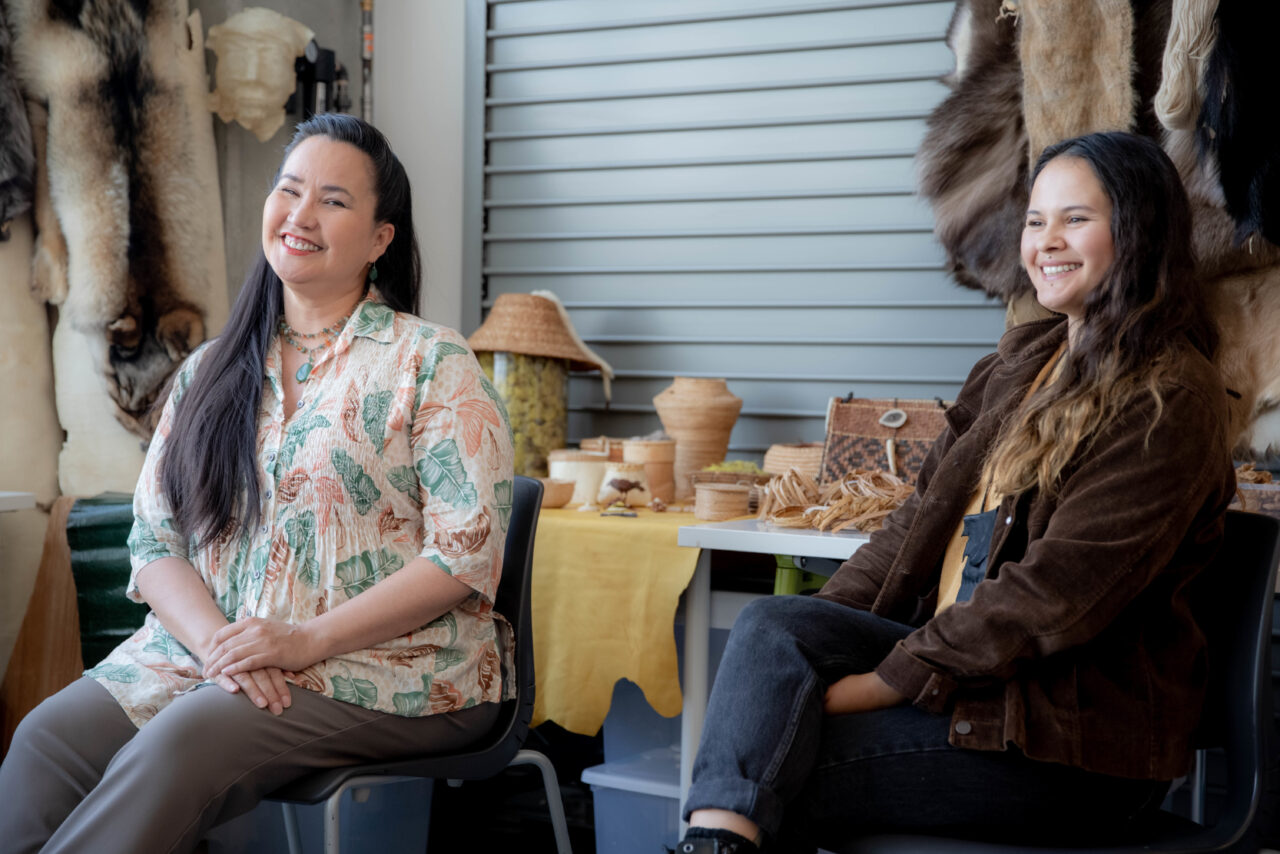 In particular, Sydney is in awe of the diverse (and near-constant) work the AGP staff do to strengthen Indigenous community in and around ECU while somehow making it all look effortless — so effortless that despite participating in AGP programs herself, it was only once Sydney became their colleague that she realized how many irons Brenda, Connie and Angela keep on the fire.
"Being a student and walking around here, you don't really see how these things happen or how changes come to be," Sydney says. "They're just incredible people, the amount of work they have, and they're just able to keep going. I feel like, 'Well, I guess I can try and keep up,' but holy moly."
Yet Sydney has indeed been keeping up. This past year, she's participated in the EAGLE program — which connects Indigenous youth with industry professionals to help develop leadership and entrepreneurship in the areas of art, design, e-commerce and business — and found time to contribute artwork to two exhibitions, one of which she helped curate. During the summer, she attended the 2020 Perspectives on Reconciliation virtual conference with Connie and ECU President Gillian Siddall — a follow-up to the inaugural, in-person gathering of leadership from Canadian universities held last year in the Yukon.
But Sydney's admiration for Brenda, Connie and Angela is also driven by another factor; she knows what it's like to not have a place like the AGP.
"I grew up in the Edmonton area; I studied design for a couple of years and later did my diploma in Fine Arts there. The institution was split across the city up until my final year, so we didn't have a space like [the AGP]," she says.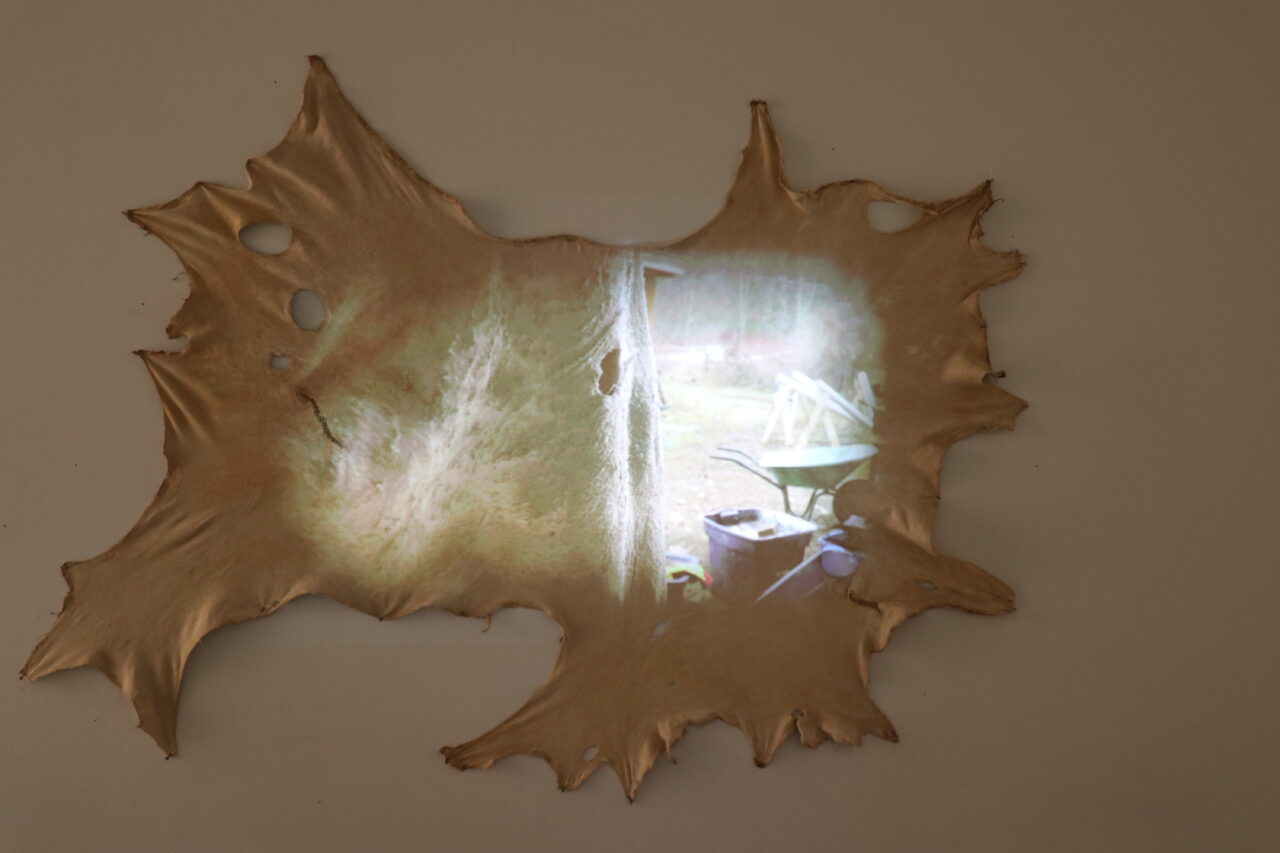 "I don't think I met one Indigenous person for the first three years, and I never knew of any Indigenous instructors. We didn't know how to find each other. There's one spot where you can meet with Indigenous people, but it's so separate from everything, it just wasn't accessible. So, being here over the last two years and getting to know Connie and Brenda has really had a huge impact for me."
Part of that impact is embodied by Sydney's engagement in recent years with the practice of hide-tanning. Brain-tanned hide has appeared in a number of her artworks, both as an object in and of itself, and as a scrim or screen for projection. Hide is not only part of a culturally specific practice for Sydney — she is the recent recipient of a scholarship from the First Peoples Cultural Council that will provide her with a year-long hide-tanning mentorship with master tanner Mara Cur, set to take place in Lil'wat Nation, of which Sydney is a member — it is also personal.
Sydney's family was one of many shattered by the Sixties Scoop; her mother was separated from her extended family for most of her life. Having grown up in another province, it is only in the last five years Sydney has come to understand her family's Indigenous history, and how colonization has affected them as individuals and as a group. Part of that process of reconnecting has been accomplished while tanning hides.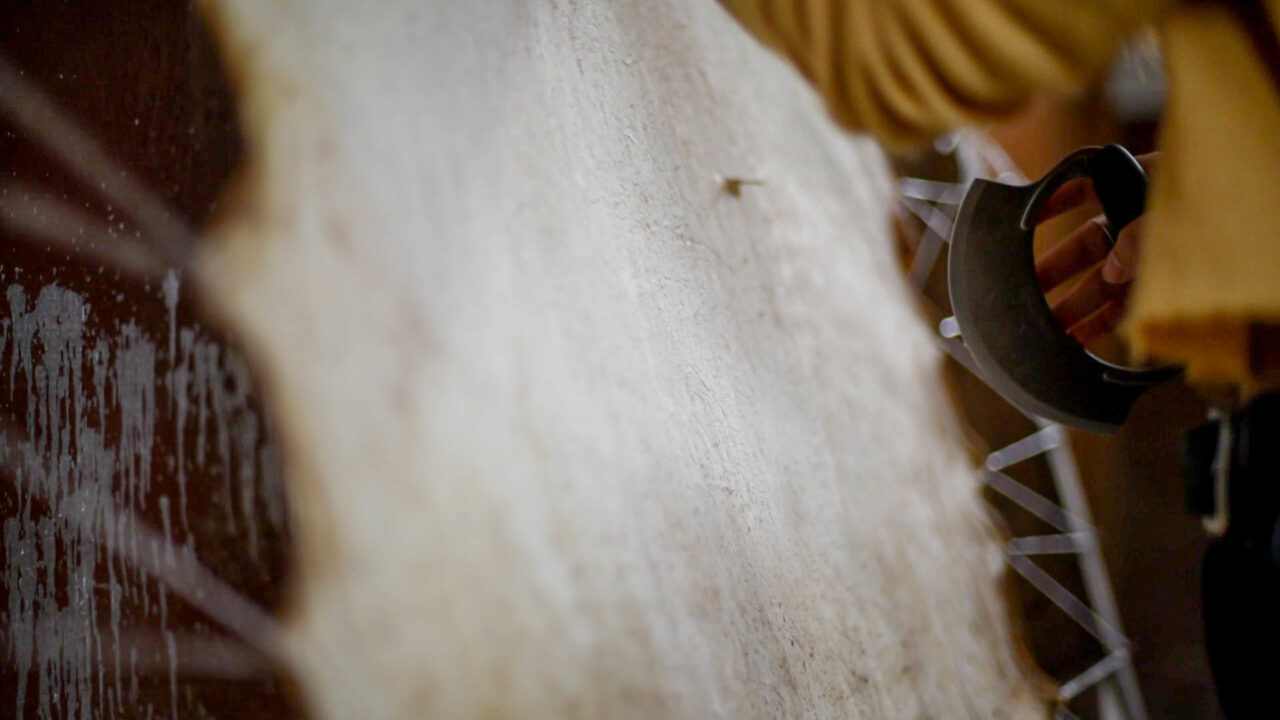 Since moving to Vancouver in the summer of 2018, Sydney has regularly been returning to her community in Mount Currie. A younger cousin who lives there inspired her to take up hide tanning, and she swiftly made connections among her Lil ̓'wat7úl community. Recently, the group began hosting workshops, which Sydney says quickly became occasions for much broader community connection.
"In the few workshops we had before COVID, a lot of family members came, and it was more than just learning how to tan hide — it ended up being sharing stories and learning language between family, friends and elders who would stop by," she says.
"It had a huge impact and [the community] really wanted that to keep happening. And as time's gone on, there's been more action being taken to teach these skills. So, if I can be a part of that, I will."
Sydney and her family members are hoping to create a permanent space in Mount Currie for their work, and to host ongoing hide-tanning workshops. Meanwhile, Sydney has been using video to document these gatherings, as well as the systems of lakes and rivers around Mount Currie. She's been combining that tape with footage from protests she attended in solidarity with Wet'suwet'en land defenders, and with archival recordings of her grandmother's voice explaining the ways the Sixties Scoop impacted her and her family.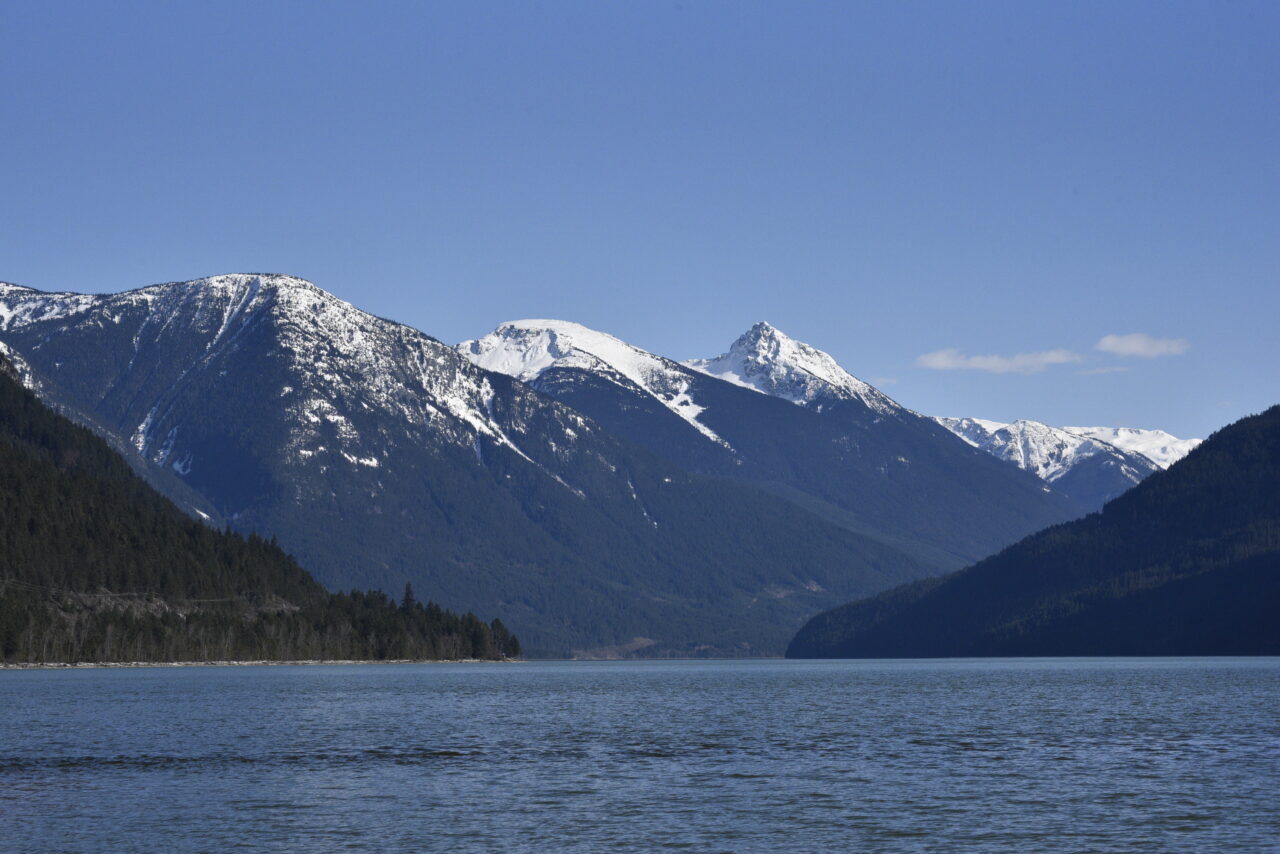 "It's all interconnected in some way, though they're different stories," she says of her work as an activist and her work in her own community, adding that hide-tanning remains a polestar for her increasingly diverse practice.
"I've been really attached and focused on that one skill so far. I've been able to use it as a way to tell that story of reconnecting, and it's a material I think I'm going to use forever, and hopefully teach."
This same work — of providing space for intergenerational and culturally supported connection — is what Sydney sees happening every day at the AGP. It's part of the work she herself has proudly become involved in, and which she hopes to help bring to more students through her work as a researcher.
"I find this space really important — I don't think I realized how important it is or how much it would help me in my art practice until I came here," she says.
"During the reconciliation workshop we did over the summer, we talked about that; it was really emphasized how there should be a space like this available everywhere for students. 'A home away from home,' is what they call it. And it really is.
"It just gives such a sense of community that I didn't have before. So, how can I learn from what they're doing here and use that in the future?"