Cameron Kletke Wins OIAF Award, NFB Hothouse Residency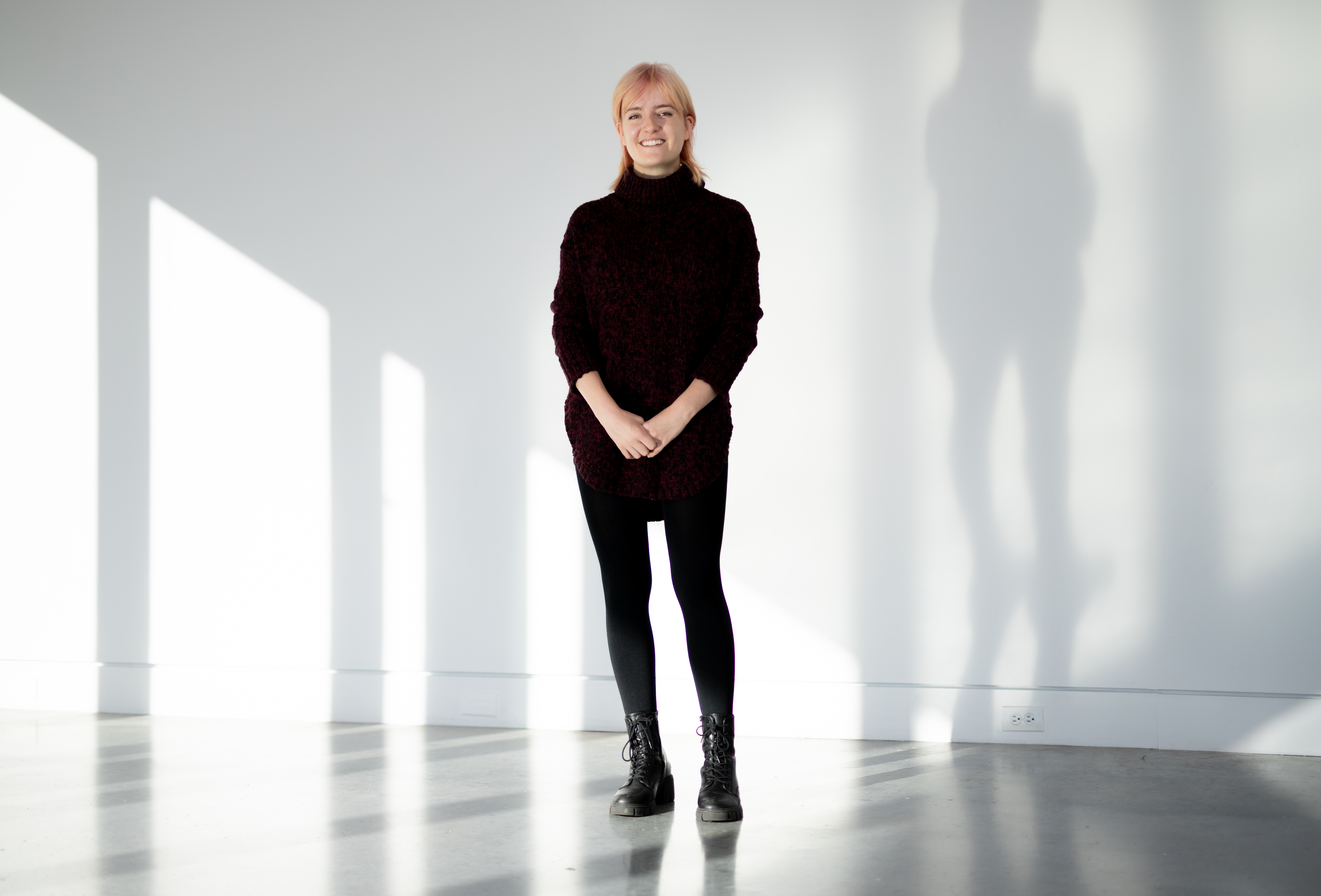 Posted on November 09, 2023 | Updated November 09, 2023, 2:18pm
The artist and ECU alum was awarded for her graduating experimental animated short film, Between You and Me.
An animated film by artist and ECU alum Cameron Kletke (BMA 2023) has been awarded the top prize for student work at the Ottawa International Film Festival.
Titled Between You and Me, the experimental, hand-drawn short earned Cameron the OIAF's NBCUniversal Award for Best Canadian Student Film.
"It was just nuts being recognized on that level, especially seeing all the other films at the competition. They were all stunning," Cameron tells me. "It was stressful getting called on stage. I was just happy to be there. It was an incredible experience."
ECU students Mia Milardo (BMA 2023), Maya Patrich (BMA 2023) and Weiwei Wu (BMA 2023) also had their graduating films selected for screening in the OIAF competition. The group shared a hotel room and explored Ottawa together while visiting the city for the award ceremony.
During their studies at ECU, Mia, Weiwei and Cameron worked as researchers in faculty member Alla Gadassik's Animate Materials Workshop, where Cameron says she was first started working with "material-based, under-the-camera" techniques.
(Alla served as a guest curator and member of the jury for the 2023 OIAF, though she notes she was not involved in adjudication for the Best Canadian Student Film category).
Meanwhile, Between You and Me is an Official Selection at 2023 festivals including the Sweaty Eyeballs Animation Festival, the Vancouver International Film Festival and the Cannes Indie Shorts Awards.
Cameron was also recently selected from among more than 400 applicants for a prestigious residency with the National Film Board's (NFB) Hothouse Animation Mentorship program. Over the course of 12 weeks, Cameron is creating a new hand-drawn, experimental short titled Not Enough Womb for the Two of Us — a concept she assembled to address this year's Hothouse theme, "Small Things Considered." The finished work will be screened in Montreal and posted to the NFB's website in 2024.
She notes that Between You and Me was a key part of her submission to the program.
"It's crazy," she says of the laudable momentum she's built. "Sometimes I'll be like, wait, what? It's crazy how much can come from one film."
But in Cameron's view, success was never assured. In fact, after finishing Between You and Me, she was ready to "never think about it again."
Partly, this feeling stemmed from the film's personal source material. The "under-the-camera" animation techniques used to create Between You and Me involve using photographs of drawings on paper instead of traditional animation cells. The drawings Cameron created for the film started with pages torn from more than a half-dozen old journals written over the course of years.
"They were just for me," she says of the journals. "And for a long time they were only just for me. I would never ever let anyone look at any of them."
Her decision to mine this archive quickly earned her notice from her classmates, who encouraged Cameron to embrace the more intimate elements.
"When I first started making the film, it wasn't going to be a narrative," she says. "But as I worked, I got a lot of feedback saying it should be more personal. Obviously the source material is personal, so why not make the film more personal? So I did, and it's an exploration of my identity — coming to terms with who I am."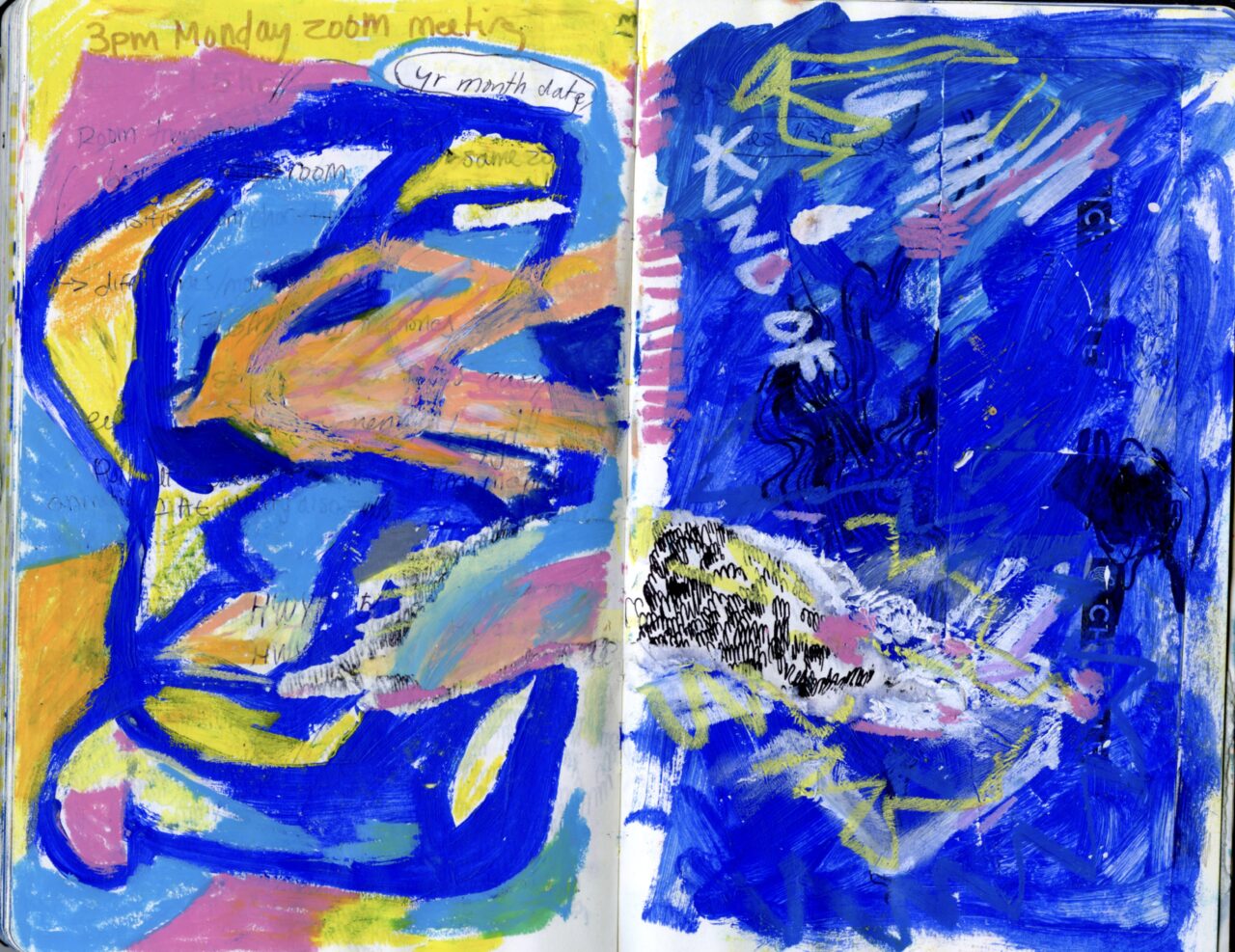 And while Cameron says the process "took it all out of me," the film's impact on audiences got her rethinking the value of bringing her own story to her artwork. Following the film's debut at the 2023 Animation + Film/Video Premiere Screenings at ECU, she hung the physical pages of her journals on the university's walls as part of The Show graduating student exhibition.
"It was super scary. I think the only people I didn't want reading them were my parents. But otherwise, it was weirdly freeing," she says. "And the reception to the film was so crazy that I thought, okay, maybe I should reconsider how I view my own art. It's been very surreal, but really fun."
Visit Cameron's website and follow her on Instagram to keep up with her extraordinary work. Between You and Me will be available for viewing after the festival circuit in 2024. You can watch the trailer via Vimeo.
Visit ECU online to learn more about studying 2D + Experimental Animation at Emily Carr.

Want more stories like this delivered twice a month to your inbox?