Our logos and wordmarks, fonts and colours make up the visual identity of the university. Using these elements in a consistent way strengthens our brand and associates our design work with the university.
Our visual identity is for official university communications. Students, staff and faculty are not permitted to use the identity to promote themselves or their work without consent of the Communications Officer. Email communications@ecuad.ca to request.
ECU Brand Guidelines
Our Brand Guidelines include the complete rules about logo and wordmark use, font and colour specifications.

Download and review the guidelines and examples to assist you in making the best possible decisions for developing communications materials.
Logo + Wordmarks
Our logo and wordmark can be downloaded here. Please ensure you are using them correctly by consulting the ECU Brand Guidelines.

Primary Logo (Downloads for digital and print use)
Wordmarks (Downloads for digital and print use)
The Dos and Dont's for Logo Use is a handy guide for how to use the logos in your design.
Fonts
Primary Font | Freight
Use Freight Sans Pro for all formal communication, especially for headlines, subheads, call-outs, labels and type-as-design-element.

Use Freight Text Pro for body copy and lower-hierarchy items like page numbers, pull quotes, and captions. Don't use it for headlines, subheads or as a graphic device.

To access these fonts you must activate them through the Adobe Creative Cloud app and your ECU Adobe Enterprise account.

Alternative Font | Noto
As an alternative to Freight, you may substitute Noto Sans and Noto Serif. Noto is a Google Font, and is ideal for digital materials where Freight may not be available. Download Noto for free online.
More information on our brand fonts can be found in the ECU Brand Guidelines.
Brand Colours
Our logo consists of six distinct and energetic colours. Repeating these colours reinforces our brand.
The values below show how to reproduce these colours in different graphic environments:
PMS is for spot colour printing.
CMYK is for four-colour printing.
RGB is for screens, including computers, phones and digital signage.
HEX is for HTML.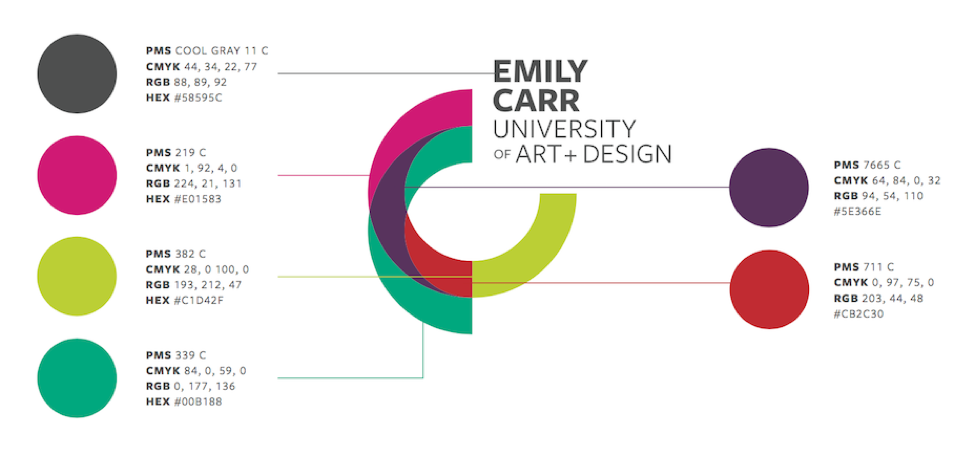 Cool Grey


PMS 11 C
CMYK 44, 34, 22, 77
RGB 88, 89, 92
HEX #58595C

Pink


PMS 219 C
CMYK 1, 92, 4, 0
RGB 224, 21, 131
HEX #E01583

Green


PMS 382 C
CMYK 28, 0 100, 0
RGB 193, 212, 47
HEX #C1D42F

Teal


PMS 339 C
CMYK 84, 0, 59, 0
RGB 0, 177, 136
HEX #00B188

Purple


PMS 7665 C
CMYK 64, 84, 0, 32
RGB 94, 54, 110
HEX #5E366E

Red


PMS 711 C
CMYK 0, 97, 75, 0
RGB 203, 44, 48
HEX #CB2C30