Caitlin Ffrench Wins 2023 Audain Travel Award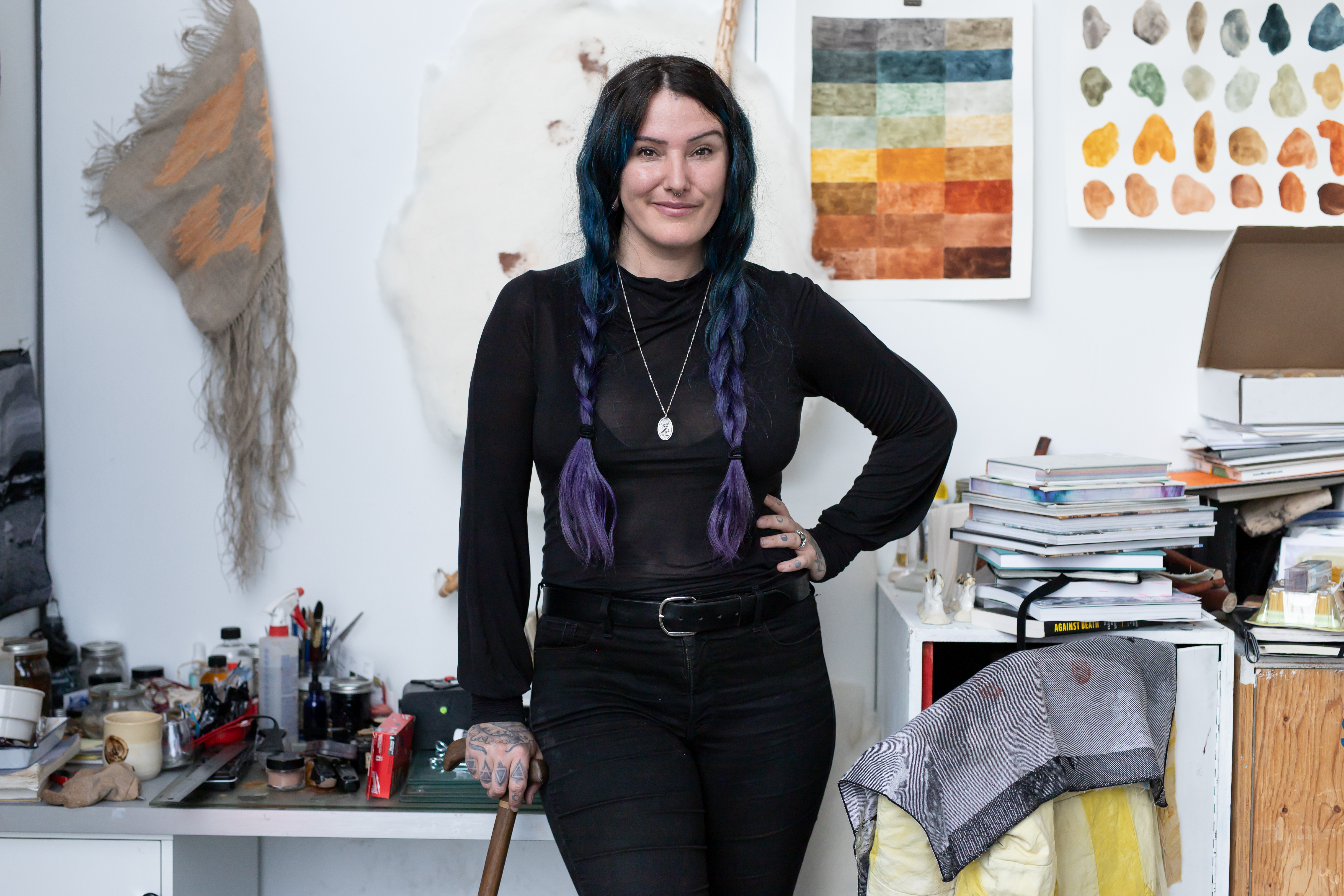 Posted on November 07, 2023
The artist and ECU MFA student will use the prize to travel to Iceland to continue her artistic engagement with the country's landscapes.
Interdisciplinary artist and MFA student Caitlin Ffrench (MFA 2024) has won a 2023 Audain Travel Award.
Speaking from her studio on Level 4 of the Emily Carr University campus, Caitlin says the announcement was "overwhelming."
"The other folks who were nominated are so incredible and deserving," she tells me. "And all four other winners have practices that are so interesting and, I think, important to the world right now. And then getting to witness Dana Claxton win the Audain Prize for the Visual Arts was incredible. I was crying. Everyone was crying and applauding."
The prestigious Audain Travel Award provides $7,500 annually to young artists enrolled in a full-time fine-arts program at the undergraduate or graduate level, to encourage travel to view art. Past recipients include Khim Hipol (BFA 2022), Erick Jantzen (BFA 2021), Esteban Pérez (MFA 2021) and Malina Sintnicolaas (MFA 2020).
Caitlin was nominated for the award by ECU faculty member Randy Lee Cutler. Caitlin works in disciplines including photography, textiles, painting, printmaking, performance, ceramics and installation.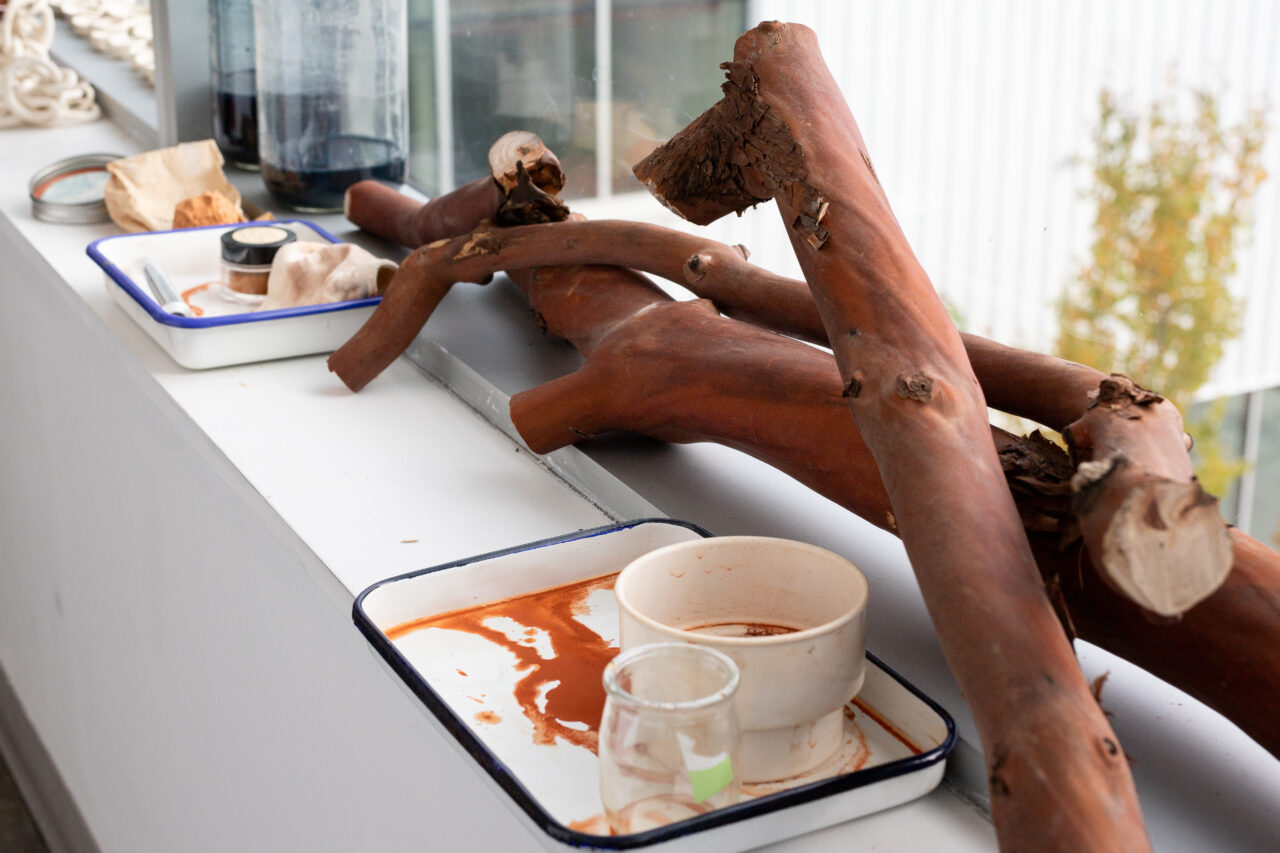 Her work centres around an exploration of the connections between disappearing landscapes, "solistalgia" (defined as grief for the dying world) and her own personal battle with disease. Caitlin notes she has been diagnosed with rheumatoid arthritis, multiple sclerosis and endometriosis resulting in a hysterectomy at the age of 29.
With a focus on the rapid acceleration of the human-fuelled climate crisis, Caitlin uses found and natural materials to explore how the deterioration of specific landscapes reflects her own physical decline. In connecting these themes, Caitlin aims to foreground how a kind of fellowship can be forged around bereavement.
"I am speaking about my grief for my body, and about the grief I experience in the land, but I want people to be able to parallel their own grief when they view my work and read my writing," she says. "They don't have to be sick in the same sort of way. Everybody has grief for something, and their grief is just as valid and just as important as mine."
Caitlin says she'll use the award to travel to Iceland, a location that has inspired her practice during multiple previous visits. There, she has been repeatedly visiting different glaciers over the course of years, photographically recording their recession. She'll also be visiting Roni Horn's Library of Water, which likewise reflects on the country's disappearing glaciers.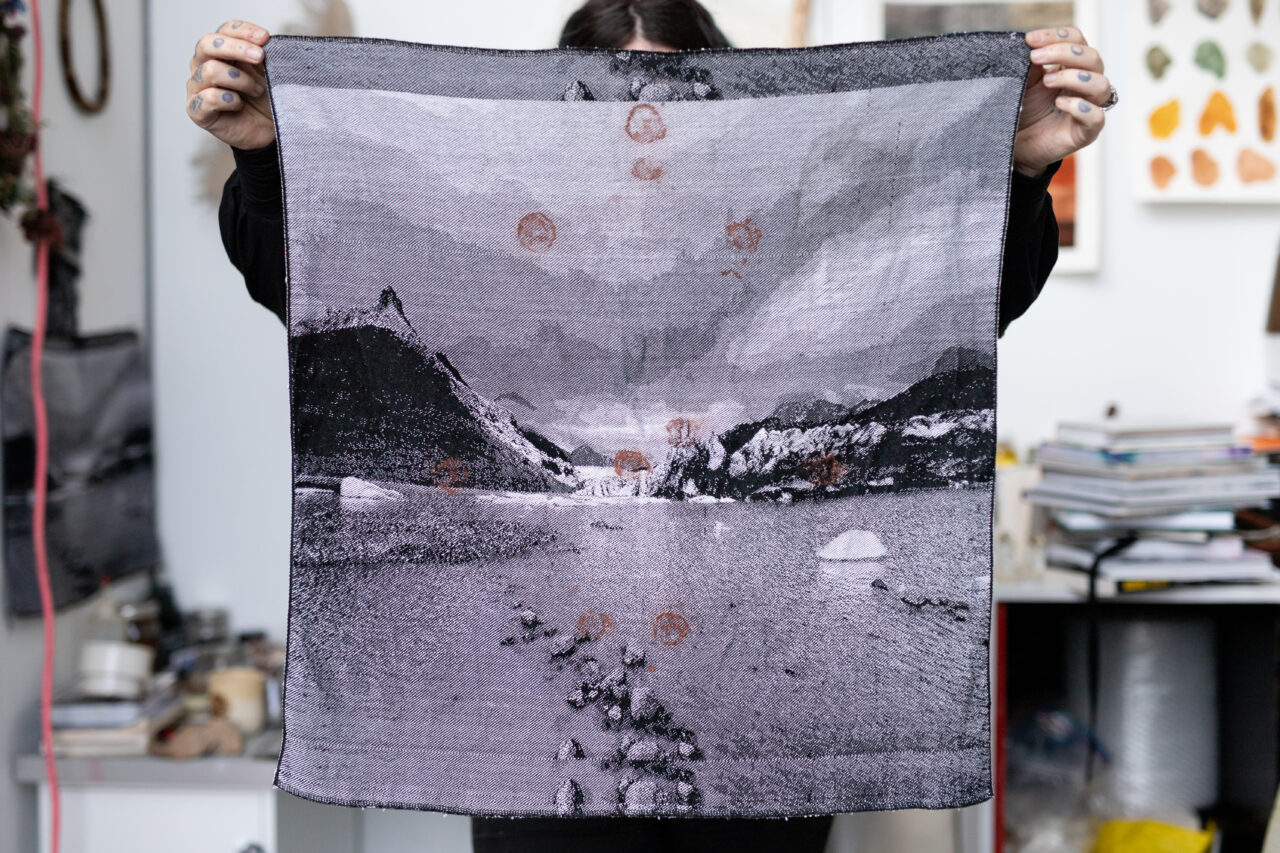 One of Caitlin's recent textile works took Iceland's Svínafellsjökull glacier as its subject. Titled Svínafellsjökull Retreat (Glacial Bones), the work was woven on the jacquard loom at Emily Carr University. The black-and-white image is marked by 10 rust-coloured spots. This "sigil or constellation" was created using ochre — a natural, iron-rich pigment often symbolically linked to blood and the body.
"These constellation sites, which show up in a lot of my work, are the 10 spots that disease has taken from me," she says. "They're the parts of my body that are either dying or dead — that I can't recover."
Caitlin adds that using natural materials bears broader conceptual meaning, outside of her belief in ethical material practice.
"I want it all to be compostable. I want it all to be able to return to the earth. It's part of showing that nothing is permanent and things are going to change, but the world will survive without us and the world will survive without me."
Visit Caitlin's website and follow her on Instagram and TikTok to see more of her work.
Visit ECU online to learn more about studying in the MFA program at Emily Carr.
Want more stories like this one delievered twice a month to your inbox?