REGISTRATION CLOSED
Two formats available:
Online (SEATS AVAILABLE)
Monday - Friday, July 4-15, 2022
9am-4pm (Pacific Daylight Time, GMT -7)

On Campus (FULL, NO SEATS AVAILABLE)
Monday - Friday, July 18-29, 2022
9am-4pm

In this two-week program, creative youth aged 13-15 explore 2D and 3D art-making. Working with professional art instructors in a focused workshop environment, students will complete a variety of projects in drawing, painting, animation and soft sculpture. Sketching and an examination of the creative process will complement hands-on learning to create an engaging and accessible art experience for creative youth of all backgrounds.
The Junior Art Intensive builds foundational knowledge while emphasizing skill development and the creative process and helps prepare students for our Summer Institute for Teens. The program culminates with a public exhibition of student work in Emily Carr's Michael O'Brian Exhibition Commons.

View the inspiring and exciting work produced during the Junior Art Intensive 2021: summerteens.ecuad.ca
What students say about the program:
"I enjoyed the company of others with the same interests as me, as well as learning new things about art!"

"The teachers were very welcoming, and gave me useful feedback to reflect and improve upon. I also gained new skills and confidence"

"My instructors were great. They did an incredible job of maintaining a positive environment online and they were very helpful"

"I liked that we didn't spend all the time on the computer and really got to express and put ourselves into our artwork"
Schedule
JAI 2022 schedule (subject to change)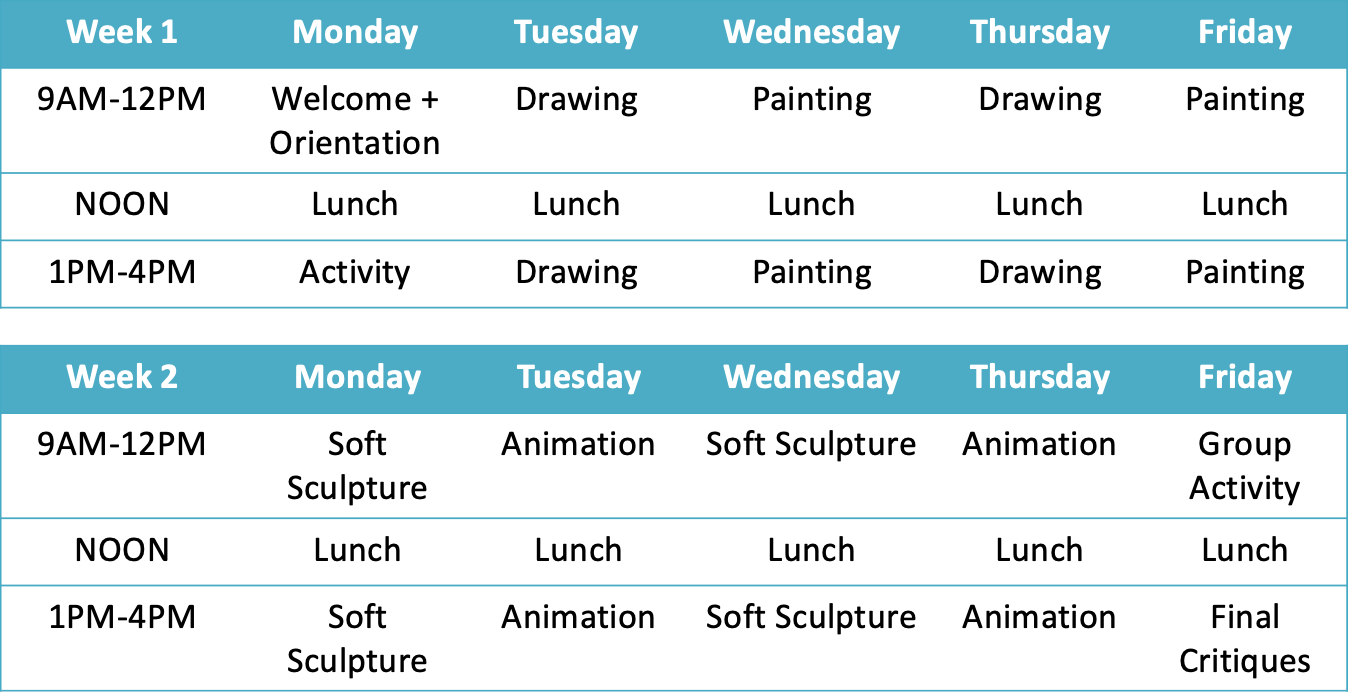 How to Register
REGISTRATION CLOSED
JAI is open to students ages 13-15, or who will be entering Grades 8, 9 and 10 in Fall 2022. Registration is on a first-come, first-serve basis. For registration updates and reminders, please subscribe to our Teens mailing list.
Early Bird Deadline: April 14, 2022
Regular Deadline: June 30, 2022
Program Fees
Domestic student (Canadian citizen or permanent resident)
Early Bird rate (before or on April 14, 2022) $1177.00
Regular rate (after April 14, 2022) $1274.00
International student
Early Bird rate (before or on April 14, 2022) $1279.00
Regular rate (after April 14, 2022) $1376.00

Registration Policies
Withdrawal requests received prior to April 14, 2022, refund will be processed less a $35 administrative fee. Withdrawal requests received between April 15 - June 30, 2022, refund will be processed less a $500 administrative fee. Withdrawal requests received on or after June 30, 2022 will be processed with no refund. View other CS policies.
Materials and Supplies
JAI online sections:
Aboriginal Scholarship
APPLICATION CLOSED
We are pleased to offer two full scholarships to students of Aboriginal ancestry. Please submit your application by March 1st, 2022.
About the Instructors:
Cath Hughes: Drawing + Painting
Cath is a British-Canadian visual artist who works in painting, drawing, collage and assemblage. She holds a BFA in Painting from the Ruskin School of Art, Oxford University, a MA in Museums and Galleries in Education from London University, and a Postgraduate Certificate in secondary art education from Goldsmiths College, University of London. Cath began her career in education as a high school art teacher in London, then worked for a number of years as a freelance gallery educator, programmer, researcher and writer in some of the foremost London galleries such as Tate Modern and the National Gallery. She moved to Vancouver in 2008 and now teaches at Emily Carr and at Burnaby Art Gallery.
Weronika Stepien: Soft Sculpture + Animation
Weronika is an artist that incorporates 3D animation, drawing, painting, and sculpture. In her work, she re-inscribes the representational tropes and technology of gaming and fantasy CGI animation into a visual matrix. Weronika graduated from Emily Carr University's Film and Video and Integrated Media program in 2009 and the University of British Columbia's Masters of Fine Art in 2019. She has studied in the United States, Germany, and the Netherlands and has exhibited work in various galleries around Vancouver. She has 10 years of experience in teaching art and animation to students of all ages.
Junior Art Intensive | FAQ's
How will Junior Art Intensive 2022 run online?
What is ECU's COVID-19 protocol?
Will the schedule for the online program remain the same?
What can I expect from JAI?
What are the learning outcomes?
What resources and materials will I need for JAI (in person and online)?
Keep in Touch

Subscribe to our Teens newsletter to receive updates about upcoming programming and registration dates, straight to your inbox.