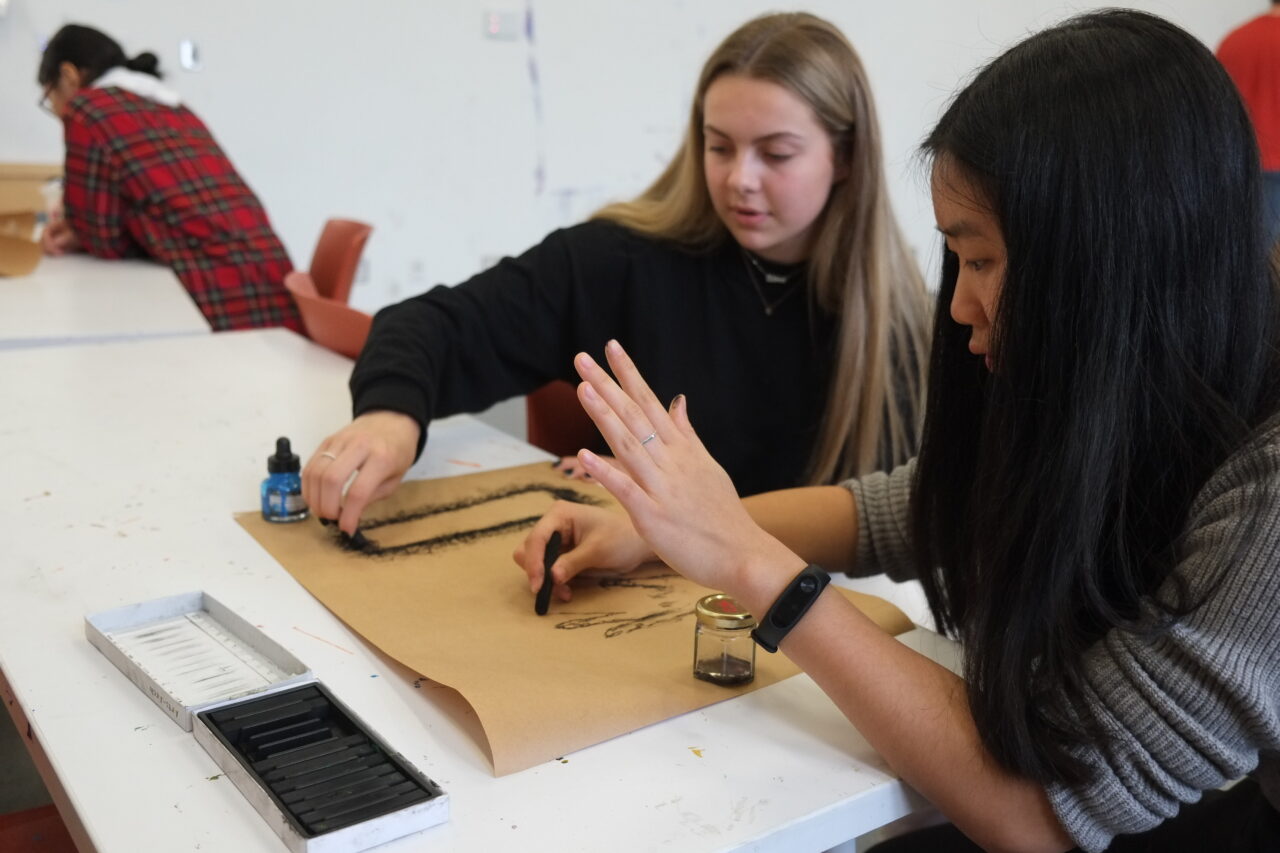 Explore the dynamic world of visual culture with Teen Art Group!
Teen Art Group (TAG) members work with practicing artists in a studio setting at Emily Carr University of Art + Design and gain an expanded understanding of visual culture at the Vancouver Art Gallery.

TAG Members:
Get behind-the-scenes access to artists and exhibitions at Emily Carr University of Art + Design and the Vancouver Art Gallery.
Participate in hands-on art-making workshops every month and explore a wide range of issues and media with artists and educators.
Generate new ideas and skills for your portfolio and deepen your understanding of design and culture alongside your creative peers.
Program Details

TAG brings together students between ages 15-18 twice a month from October to May. These after school sessions run 4:00pm to 7:00pm PST and alternate between the Vancouver Art Gallery and Emily Carr University. Program activities for 2021-2022 are expected to take place in person.
Dates: October 7 2021 - May 12, 2022
Classes are scheduled on the first and third Thursday, each month.
Course Code: CETP 300 F001

Ages: 15-18 years

Tuition fee: $454

What TAG members say about the program:

"TAG has been a wonderful experience that has broadened my perspective about the art world. I have learned so much from so many artists such as Takashi Murakami, Guo Pei, Emily Carr, and Cindy Sherman. Learning about these artists has helped me expand my art style, and given me inspiration for both my portfolio and my own exhibition. Getting to meet and work with artists and curators is also an amazing experience that I could have not gotten elsewhere."

"...this program was really valuable because it provided local art connections I could use later on in life as an emerging artist. I learned about Vancouver based artists, local art exhibitions, and even about the VAG itself. I feel more connected to my city as a result, and have created pieces in class I can use or experiment with for my personal portfolio."
TAG 2020-2021 Online Delivery & COVID-19 Response

Emily Carr University is preparing for a safe return to on-campus activity this fall, shaped by public health guidelines, as well as BC's Go-Forward Guidelines for post-secondary institutions. All CS students will be required to complete our COVID19 Safety Orientation as part of their on-boarding prior to their arrival at campus. As always, ECU's top priority is the health and safety of our students, instructors and staff.
In keeping with this, the Teen Art Group 2021-2022 is expected to be delivered in person, but we are prepared to pivot our programming online should the circumstances require us to do so. Emily Carr University and the Vancouver Art Gallery are committed to offering meaningful art education to youth and teens, and invite students to deepen their understanding of art, grow their skill-sets and develop their portfolio through TAG. Whether in person or online, this dynamic and engaging program will be delivered to the highest educational standard, and instructed by award-winning artists and designers.
For up-to-date information on ECU's response to COVID-19, visit the website:
Registration

Registration for Teen Art Group 2021-2022 is closed. Thank you for your interest!
Scholarships

Emily Carr University is pleased to offer two full scholarships for students of Aboriginal ancestry. Please download the 2021-2022 Aboriginal Scholarship Application Form and submit to teens@ecuad.ca.

The Vancouver Art Gallery will provide partial scholarships based on need. Please apply to srome@vanartgallery.bc.ca

For program questions, please contact: