Celebrate National Indigenous Peoples Day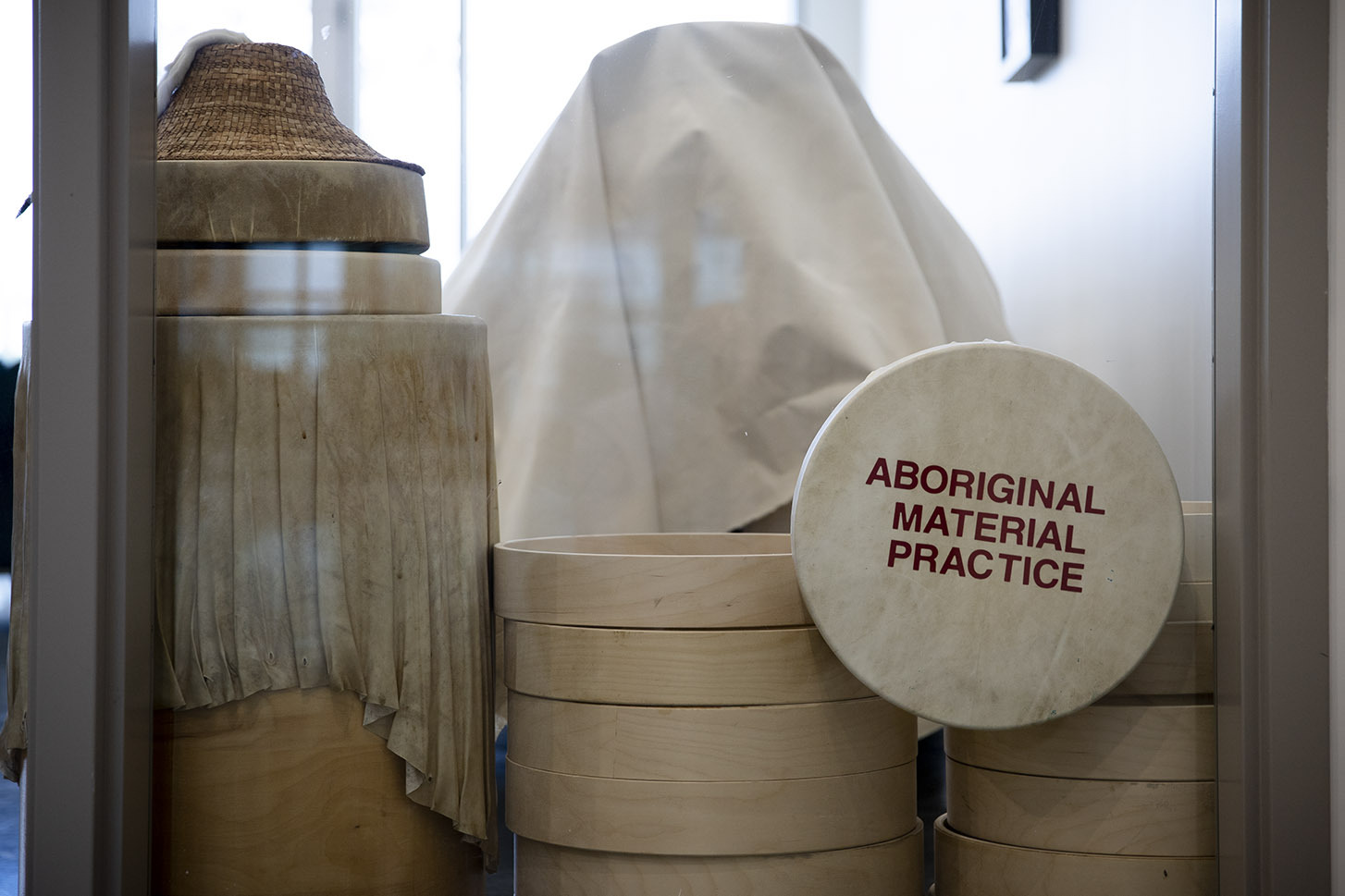 Posted on June 21, 2022
A day to recognize and honour the First Nations, Métis and Inuit peoples.
June 21 is National Indigenous Peoples Day in Canada. Since 1996, it has been an annual occasion for celebration and community gathering for Indigenous people across the country.
It is also a time for non-Indigenous Canadians to reflect on and learn more about how to stand with the Indigenous community. And it's a reminder that this journey of reflection and understanding is one that can be advanced every day of the year.
As artist and ECU alum Xwalacktun recently said, "We're all in the same canoe, we always say … We all have to work together, pull together, look after what we share."
To that end, here are a few ways to mark this occasion:
The Meymey 'em | Ripple exhibition is currently showing at the Libby Leshgold Gallery at ECU through July 3. Presented by the Aboriginal Gathering Collective and curated by Dana Claxton, Meymey 'em showcases the work of 22 established and emerging Indigenous artists. Artworks include carving, weaving, jewelry, painting, sculpture, printmaking, video, baskets, clay works, hats, masks, canoe bailers, paddles and more. The distinct uniqueness of these forms and the use of local natural materials create an exhibition that highlights Indigenous art practices that originate from here.
Join səl̓ilw̓ətaʔɬ (Tsleil-Waututh) Nation Elder and ECU Chancellor Carleen Thomas alongside Chief Bill Williams of the Skwxwú7mesh (Squamish) Nation and Mary Point of the xwməθkwəy̓əm (Musqueam) Nation at the Carnegie Centre in the Downtown Eastside on June 21 for a National Indigenous Peoples Day event. The event will also feature food, giveaways and performances from Carnegie's lexwst'i:lem drum group, Big Drum with John Sam, dancer Larissa Healey and more.

Tune in to Perspectives on Reconciliation, a webinar featuring award-winning speaker, educator and social justice activist Pam Palmeter. The talk takes place via KPU's Indigenous Dialogue Series online at noon on June 21.

The Museum of Anthropology (MOA) will screen a selection of short films on loop throughout Tuesday, June 21. The films feature "the work and words of Musqueam artists, cultural knowledge keepers and community members" and "honour Musqueam's presence and stewardship of this land since time immemorial." These films are being screened concurrently at the Belkin Outdoor Screen in UBC.
Artist, researcher and Musqueam knowledge keeper Richard Campbell is the subject of Reconciliation Pole: Bronze Disc Base, which is screening at the MOA and at Belkin on June 21. Richard will appear in person at MOA on Thursday, July 23, to "share his knowledge about traditional carving techniques as well as the cultural significance of salmon, including how it is used and prepared for ceremonial purposes." The artist talk will also include a follow-up screening of Reconciliation Pole.
Learn more about whose territory you are on and what language is spoken by that Nation. The First Peoples' Cultural Council has created an interactive map to help you learn more about the 204 First Nations in BC, which has the most linguistic diversity of any region in Canada.
Join T'uy't'tanat Cease Wyss, a celebrated ethnobotanist and Indigenous Matriarch of the Skwxwu7mesh, Sto:lo and Hawaiian people, for a Plant Walk at Noons Creek Hatchery on June 21. Learn about the land as Cease shares their expansive knowledge of local, indigenous and invasive plants in the context of their ongoing exploration of the culture and traditions practiced by their ancestors.
The Talking Stick Festival, an annual festival of Indigenous performances, is hosting events through July 3. Check them out and register!
Support Indigenous-owned businesses today. Order your next summer read from Massy Books, located near Emily Carr University.
Amid the celebrations, remember that honouring Indigenous People doesn't begin and end on June 21. Decolonization is a long process that we must commit to every day. For those in our community who want to know how ECU is working toward decolonization, you can learn more by viewing our Equity, Diversity and Inclusion Action Plan.