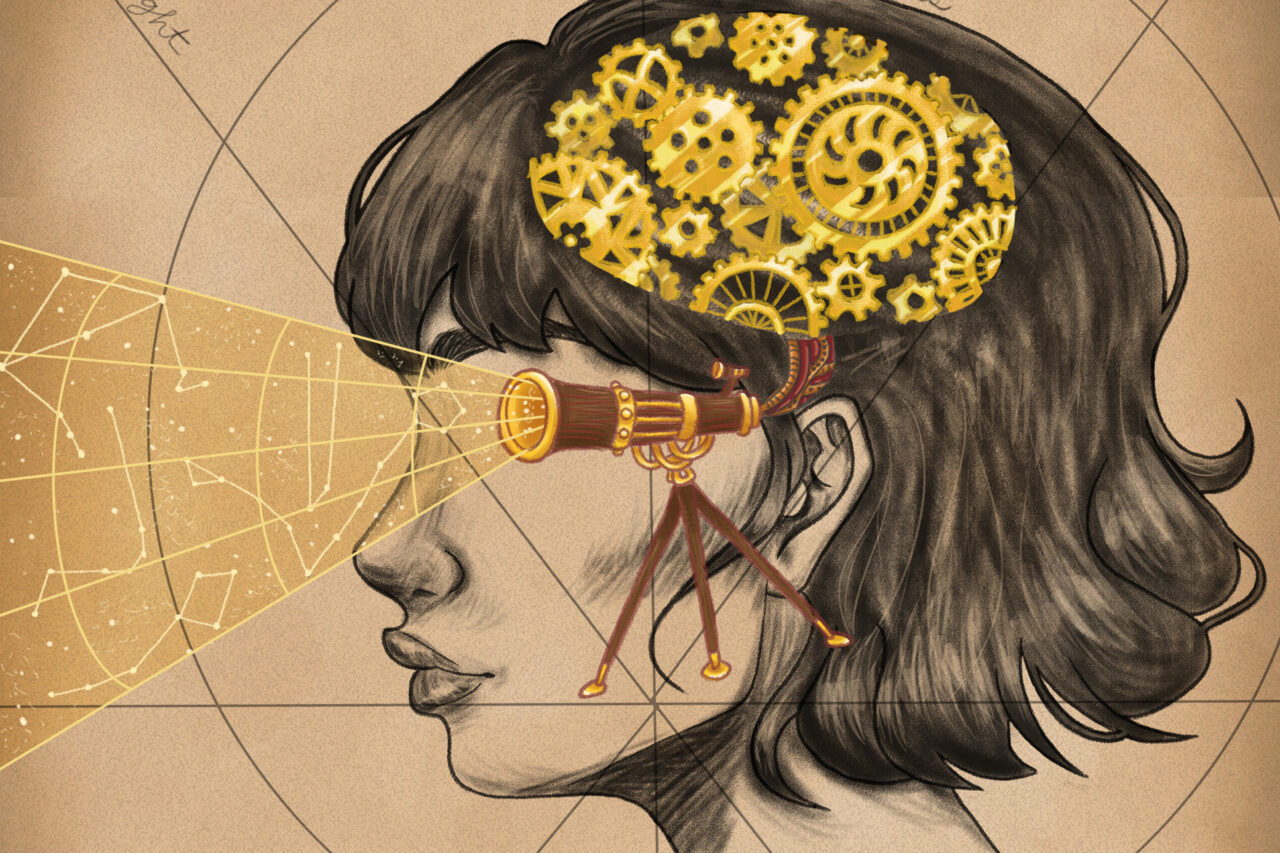 Broaden your illustration knowledge and creative potential through a range of projects using traditional and digital media. Create detailed and stylized illustrations that communicate ideas, capture characters and envision imaginary spaces. Future illustrators, animators, graphic novelists or fine artists are invited to learn traditional and digital illustration techniques as they develop their individual style and grow their body of work.
The Illustration studio runs on campus and online July 4-29, 2022, on Mondays, Tuesdays, Thursdays and Fridays.

SU01 On campus runs from 9am-4pm daily, with a 1-hour lunch break from 12-1pm.
SU02 Online includes live classes from 9am-12pm (PDT), plus 3 hours for asynchronous activities, which may include: watching pre-recorded presentations and demos, and completing independent and collaborative projects.
SU03 On campus runs from 9am-4pm daily, with a 1-hour lunch break from 12-1pm.
This studio is offered through the Summer Institute for Teens 2022. Please visit the Summer Institute for Teens main page to learn more about the program and access the registration webform.
Note: The section CETP 112 SU01 is FULL. Please join section CETP 112 SU02 for Online or CETP 112 SU03 for On campus learning.

Learning outcomes
Through successful completion of this studio, you will be able to:
Analyze visual and conceptual intentions of traditional and contemporary illustrations
Create illustrative imagery to represent concepts or communications
Illustrate using diverse application techniques and visual styles
Utilize various media, tools, and materials for dynamic illustration
Define and employ personal illustrative style for professional practices
Utilize digital and traditional tools and techniques within creative projects
Materials & Resources - On Campus (CETP 112 SU01, CETP 112 SU03)
Students participating in SIT will need to source their own supplies for their registered studio.

Estimate cost of supplies: $120-$140
Required software:
Adobe Photoshop*
Adobe Illustrator*
*ECU will provide access to the required softwares.
Materials & Resources - Online (CETP 112 SU02)
Students participating in SIT will need to have their own access to the required supplies and devices for their registered studio.

Estimate cost of supplies: $120-$140
Required software & apps:

Adobe Photoshop*
Adobe Illustrator*
Adobe Fresco*
*ECU will provide access to the required softwares and apps.
Required hardware for the online section:

Computer with webcam. Computers should meet the following minimum requirements to run Adobe CC.
Headphones and microphone
Recommended: Graphic tablet (Wacom, Huion or similar) to create hand-drawn illustrations directly on Adobe software.
Recommended: Tablet (iPad or Android) and stylus.
About the instructors
Tom Zuber - CETP 112 SU01 (On Campus)
A graduate from the Animation program at Emily Carr University, Tom Zuber has worked in Film, TV and Gaming as Art Director, Designer, Animator and Producer. Tom has worked with many renowned studios, including Sony, Electronic Arts, THQ Canada and Australia, Stargate Studios, Backbone Studios, Delaney and Friends, Bardel Animation, Relic Entertainment and Disney, collaborating in projects such as the Sandman Series, Chronicles of Narnia, SpongeBob, Dawn of War, Happy Times Murders, The Prophet, X-Files and the Exorcist Series. Tom also enjoys teaching all aspects of 2D and 3D Animation, Concept and Character Art Design, and Traditional and Life Drawing, from core artistic skill development to technical art skills.

Joni Taylor - CETP 112 SU02 (Online)
Joni Taylor is an artist / illustrator / writer, whose work is deeply informed by the eclectic influences of MAD Magazine (from the 70s, now known as Classic Mad), SNL (Roseanne Roseannadanna), the chaotic satirical work of Ralph Steadman, and the dynamic duo of Roald Dahl— whose characters and plots are always a little on the naughty side, and Quentin Blake — whose illustrations are decidedly quirky.
Passionate about the plight of the underdog (takes one to know one), Joni's subjects are those who are unknown and unseen yet have incredible amounts to offer. From feminism to ageism and global warming, Joni feels strongly about setting the record straight — even if it's just in her own mind. Her work is imbued with her own hyperbolic sense of what's funny and what's possible to get away with.

Avram Dumitrescu - CETP 112 SU03 (On Campus)
Avram Dumitrescu is an artist, illustrator, and indie game developer based in Vancouver, Canada. Raised in Belfast, Northern Ireland, Avram studied art, design, animation, and illustration at the University of Ulster at Belfast. His creative time is divided into teaching digital art classes at Sul Ross State University, making artwork for galleries and commercial illustration, and creating games. You can see his artwork in books such as Highlights Book of Things to Do, Marfa for the Perplexed by Lonn Taylor, MFK Fisher: Among the Pots and Pans by Joan Reardon. Artwork and interviews can be found in Drawing Inspiration: Visual Artists at Work and Starting your Career as an Illustrator, both written by Michael Fleishman. Avram also created the PC game Schmutznik, which can be found on the Steam marketplace. Avram's paintings and drawings were part of the UTV Art Collection - one of Ireland's most extensive and distinguished corporate collections-, and he has exhibited in numerous galleries in Marfa and Alpine, Texas, as well as various locations in Northern Ireland.