A Look at Women's Achievements at ECU | International Women's Day 2020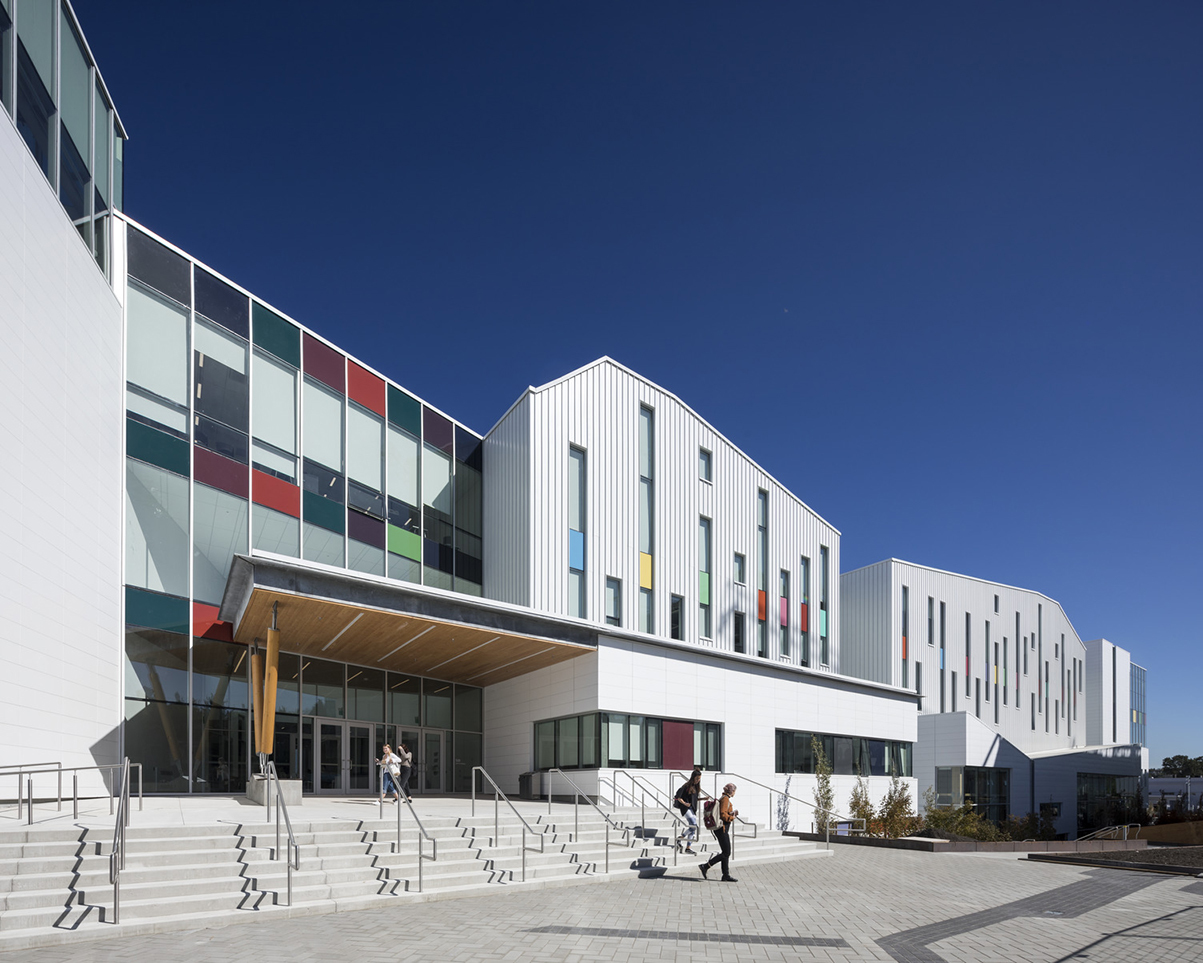 Posted on March 06, 2020 | Updated March 10, 2020, 9:19AM
An equal world is an enabled world, and on this International Women's Day, 2020, we'd like you to join us for a look back at women's achievements in the ECU community over the past year.
A major overview of three decades of work by celebrated interdisciplinary artist Rebecca Belmore — entitled Facing the Monumental — opened at the Musee d'art contemporain de Montreal (MAC). Rebecca was awarded an honorary doctorate by ECU in 2017.
Following her earlier selection as "Student Runner-up," Jesi Carson (MDes 2018) took home the Community Choice Prize from the 2019 Core 77 Design Awards. Both awards were given for her thesis project Citizen Spaces.
For her student film Believe, filmmaker and ECU Student Anna Anaka took home a pair of Bronze awards at the Independent Shorts Awards in Los Angeles, CA,: one for Best Student Director (Female) and one for Best First Time Director (Female). Later in 2019, Believe was chosen as an Official Selection at the Canada Shorts Film Festival, and received an Award of Excellence.

Later that month, Sara-Jeanne Bourget was announced as the 2019 recipient of the Studio Residency Award from Griffin Art Projects.
August, 2019, brought news of a new, ongoing initiative, called Decolonizing the Healthcare System through Cultural Connections, led by Caylee Raber, Director of ECU's Health Design Lab, and Brenda Crabtree, Director of the Aboriginal Gathering Place at ECU and Special Advisor to the President on Indigenous Issues. The cutting-edge project aims to improve healthcare practices and systems that have historically marginalized and harmed Indigenous individuals and communities.
August also saw ECU alum Teri Snelgrove (BMA, 1999) appointed to Producer at the National Film Board of Canada's BC & Yukon Studio, based in Vancouver.
Interdisciplinary Nehiyaw Isko artist Cheyenne Rain LeGrande (BFA 2019) won the BMO 1st Art! award for BC for her video work Nehiyaw Isko ᑭᒥᐊᐧᐣ.

Interdisciplinary artist, writer, educator and ECU Professor Randy Lee Cutler announced she had been invited to the upcoming Biennale of Sydney 2020. Shortly thereafter, Randy released her book project, An Elemental Typology, which draws on science and art histories as well as folklore and magic.

That same month, Claudia Adiwijaya (BDes, 2019) was selected as one of the Antenna Foundation's top 15 best young designers from around the world for her work Essentia — a plaudit that will see her headed to Eindhoven in the Netherlands to speak during Dutch Design Week.
The first Northwest Coast art exhibition in Hawaii opened in September, 2019, with Aboriginal Gathering Place Director and Special Advisor to the President on Indigenous Initiatives Brenda Crabtree acting as consultant and contributing work to the show.

Filmmaker Angelica Rico (BFA 2019) travelled to Quebec after her film, El Primer Invierno, was selected to represent ECU in the Festival du noveau cinéma's student competition.

Dana Claxton launched her new book series, Northwest Coast, featuring Brenda Crabtree's artworks and writing in one of its five volumes.

Artist and filmmaker Thirza Cuthand (BFA 2005) contributed work to a short film collection from the National Film Board reflecting on LGBTQ2+ lives and identities. The series, called Five@50, was released to coincide with the 50th anniversary of the passing of Canada's Bill C-150, which partially decriminalized homosexuality.

In October, Li iyá:qtset: We Transform It at opens in Abbotsford's The Reach gallery. The exhibition features work by Brenda Crabtree. In December, Brenda contributed works, workshops and loaning tools, learning resources and objects to the We Carry Our Ancestors: Cedar Baskets and Our Relationship to the Land exhibition at the Legacy Art Gallery in Victoria, BC. The curators of both exhibitions were effusive about Brenda's extraordinary contribution to their shows.

Artist, animator and ECU alum Stephanie Blakey (BMA 2010) helmed female-led animated short The Butterfly Affect — the inaugural offering from an initiative called Five in Focus, developed in partnership between Women in Animation and Women in View to advance gender equity in the animation industry.

Wild Empathy, an ongoing immersive mixed media art project led by ECU Professor and Researcher Julie Andreyev and Maria Lantin, Director of the Basically Good Media Lab, debuted at Science World. It was also featured on CBC Radio's North by Northwest series.

The Alberta University of the Arts announced that interdisciplinary artist and ECU MFA student Jennie Vallis had been awarded the AUArts 2019 Alumni Horizon Award.

Filmmaker and ECU Assistant Professor Lindsay McIntyre was featured on the cover of Inuit Art Quarterly, and on the cover of Border Crossings magazine. Both magazines likewise carried feature interviews with Lindsay.
Artist and ECU MFA student Malina Sintnicolaas won the prestigious Audain Travel Award for her work as an emerging sculptor.

The new, SSHRCC-funded Shifting Ground project, led by artist and ECU Professor Ruth Beer, began its work of collaborating with local communities in the circumpolar North to bring nuance to heated conversations around the pressing issues of energy and sustainability.

Artists, scholars and ECU faculty members Randy Lee Cutler and Ingrid Koenig announced their ongoing SSHRCC-funded Leaning Out of Windows project, which explores how science and art might transmit and share knowledge, would be featured in Canadian Art Magazine. The cover of that issue featured a drawing by ECU Associate Professor Mimi Gellman, who had contributed the work to the 'Antimatter' phase of the LOoW project.
Maiko Yamamoto (MFA 2015) and James Long, artistic directors of Vancouver's Theatre Replacement, were named the 2019 Laureates of the $100,000 Siminovitch Prize for excellence and innovation in Canadian theatre.

In January, Russna Kaur (MFA 2019) won the fourth annual $10,000 Tanabe Prize for British Columbia emerging painters.

Later that month, Sara-Jeanne Bourget (MFA 2019) Robin Gleason (MFA 2019) were two of the four ECU students who took home prestigious Elizabeth Greenshields grants for emerging figurative artists.
In February, 2020, Basically Good Media Lab Director Maria Lantin + ECU Faculty Member Alex Hass exhibited their work Epic Walk Diaries during their engagement as the inaugural artists-in-residence at the University of West Florida's STEAM2020 Colloquium.



ECU Assistant Professor Gina Adams appeared in an Art & Object article, where she speaks about colonial erasure in basketball. The article coincides with a pair of exhibitions featuring works from her Honoring Modern Unidentified series: the To the Hoop: Basketball and Contemporary Art exhibition at the Weatherspoon Art Museum at the University of North Carolina at Greensboro, and a solo exhibition, Maajiigin wa'aw akiing miinawaa (Begin This World Again), at Accola Griefen Fine Art in New York City.
We encourage all of our readers to look back through the ECU news archives to discover all of the truly extraordinary contributions women have made and continue to make both within our university community, and to the world more broadly.
Fast Facts: Women in Leadership at ECU